The latest Judo News offered by JudoInside.com
Surprising European U23 Champions rouse excitement for the next generation of seniors
JudoInside.com / judo news, results and photos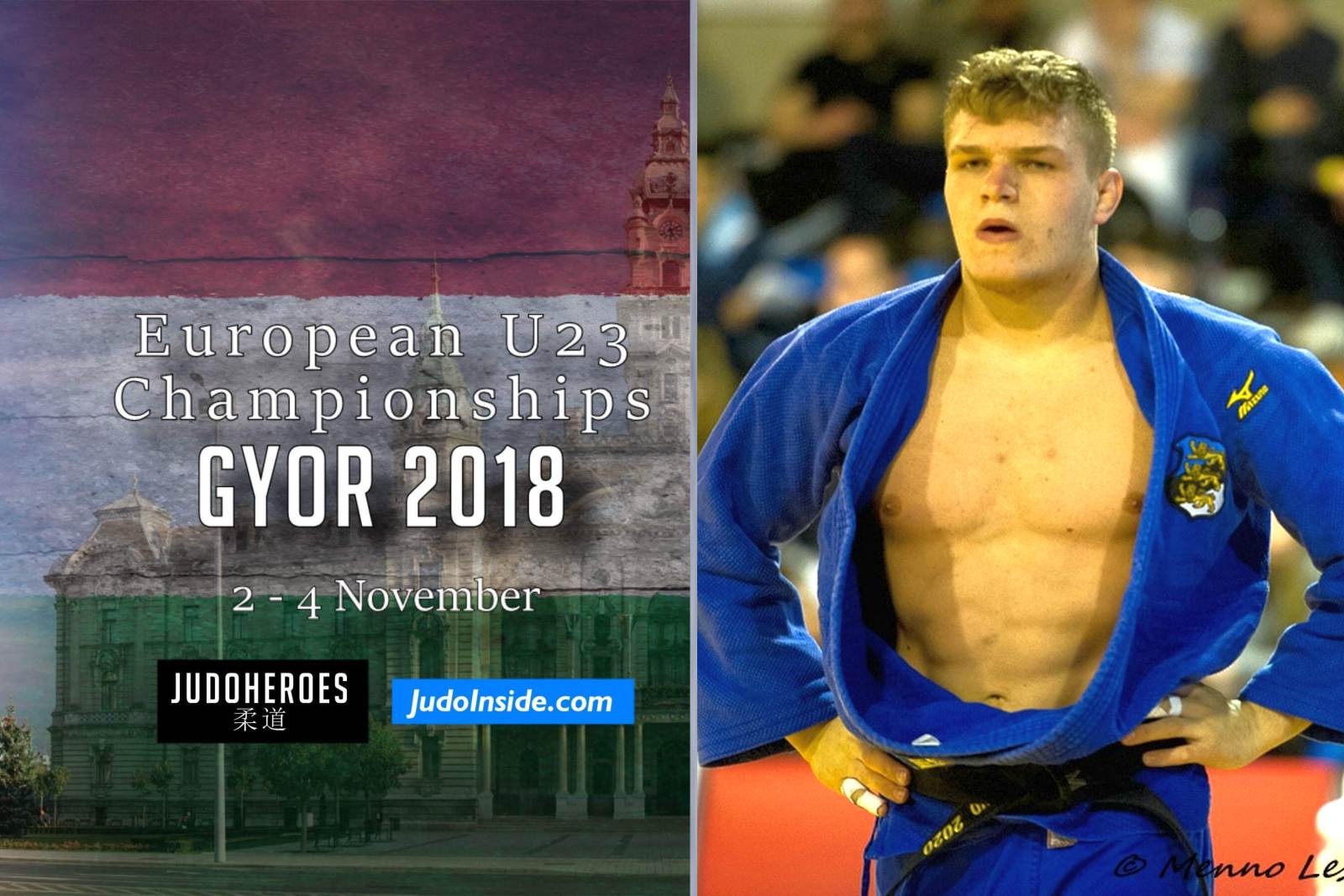 A pair of heavyweights from Russia added their golds to the medal table on Sunday and gave Russia the victory in the medal table. However, the story of the weekend is the eleven different countries that won a gold medal, with Estonia's being the most special. Never has the nation celebrated a European U23 Champion. Mattias Kuusik was the golden boy.
The U90kg category is not often the division with the most participants, however, the U23 Europeans in Györ saw 30 athletes in this division, more than any category. The winner was unexpected, hailing from Estonia. Mattias Kuusik recently won the European Cup in Malaga, which was indeed a warm-up for these Euros, but his success was admittedly still a surprise. Frankly speaking, the category didn't have the strongest possible line-up. World Champion Nikoloz Sherazadashvili is still 22. Former World Champion Nemanja Majdov is also just 22, but had another appointment in the Bundesliga. Igolnikov is 22, so in fact Yahor Varapayeu (BLR) was the first seed at this championship, but lost his first round. Many surprise victors came out on top with Kuusik even reaching the final and securing a medal for Estonia, something that hasn't happen for five years, since Grigori Minaskin won bronze in 2013. Juhan Mettis was the first to medal for his country at the U23 Euros, reaching the finals like Kuusik. The Estonian qualified via victories over Artani (KOS), Fusco (ITA), Bozha (BLR) and Mchedlishvili (GEO). Kuusik scored wazari against Briton Jamal Petgrave and finished in regular time with ippon.
Also Petgrave was the first British athlete who won a medal U90kg at the European Championships since 2003. Great Britain won a second silver after yesterday's gold.
The gold for Arman Adamian was less of a surprise. The Russian develops well and won three European Cups this season and we tipped him in advance as one of the favourites U100kg. But not all favourites reached the semi finals. Double runner-up Mikita Sviryd disappointed with a seventh place, but Adamian kept his head cool and saw German Dominik Schoenefeldt reaching the final which Adamian finished after two minutes.
A second gold for Russia for Ruslan Shakhazov who defeated Stephan Hegyi of Austria, quite a surprise, but he seems to have difficulties finishing his last contest successfully. He lost all six of his major career finals. Shakhazov didn't care and captured another European title after gold at cadet level in 2013, the year in which he won the EYOF title as well. In 2016 he won the European Junior title and continues the jump to senior level where Inal Tasoev seems to have captured the leading position. Bashaev, Volkov, Krivobokov and Shakhazov will aim for a higher position.
Loriana Kuka (21) continues to win medals, gold this time. She also won the Grand Prix of Antalya this year and may look up to Tokyo 2020 with performances like today where she won the European U23 title in the final against Christina Faber of Germany. Kuka is the daughter of Toni Kuka, who watched his daughter in Györ, coached by Driton Kuka, her uncle. The Kosovo train moves forward and steamed with two gold medals this weekend. Faber was close to become successor of Anna-Maria Wagner. All European U23 Champions made it to senior level with success. The most successful woman U78kg, Joo Abigel of Hungary recently had a baby. Christina Faber is just 18 and was close to becoming one of the youngest winners. That honour went to Andrea Stojadinov (SRB) last Friday.
Eleonora Geri of Italy and Sebile Akbulut of Turkey had an exciting final, not for the crowd though. Not much happened and they kept each-other in balance with penalties. Akbulut was perhaps the most active, but also in a negative way, she gave the match away with bad low quality makikomi's and received the third penalty and gave the gold to Geri. The Italian became the tenth winner for her country, Marco Maddaloni won two of the 11 titles.
Resuming: Russia won three titles and remains the strongest European country in this age division. Kosovo surprised with two titles, Georgia was expected and Great Britain overperformed. Spain was okay and Austria could have had more.
Related judoka and events
Related Judo Photos
Related Judo News

Bayartuvshin Sanjmyatav (MGL)
26 years
| Result | City | Date |
| --- | --- | --- |
| 1 | Paris | 8 Feb |
| 1 | Qingdao | 2019 |
| 2 | Osaka | 2019 |
| 3 | Brasilia | 2019 |
| 1 | Tokyo | 2019 |
| Result | City | Date |
| --- | --- | --- |
| 5 | Paris | 8 Feb |
| 3 | Qingdao | 2019 |
| 1 | Osaka | 2019 |
| 2 | Chiba | 2019 |
| 5 | Budapest | 2019 |