Youth Olympic Games kick off with three young champions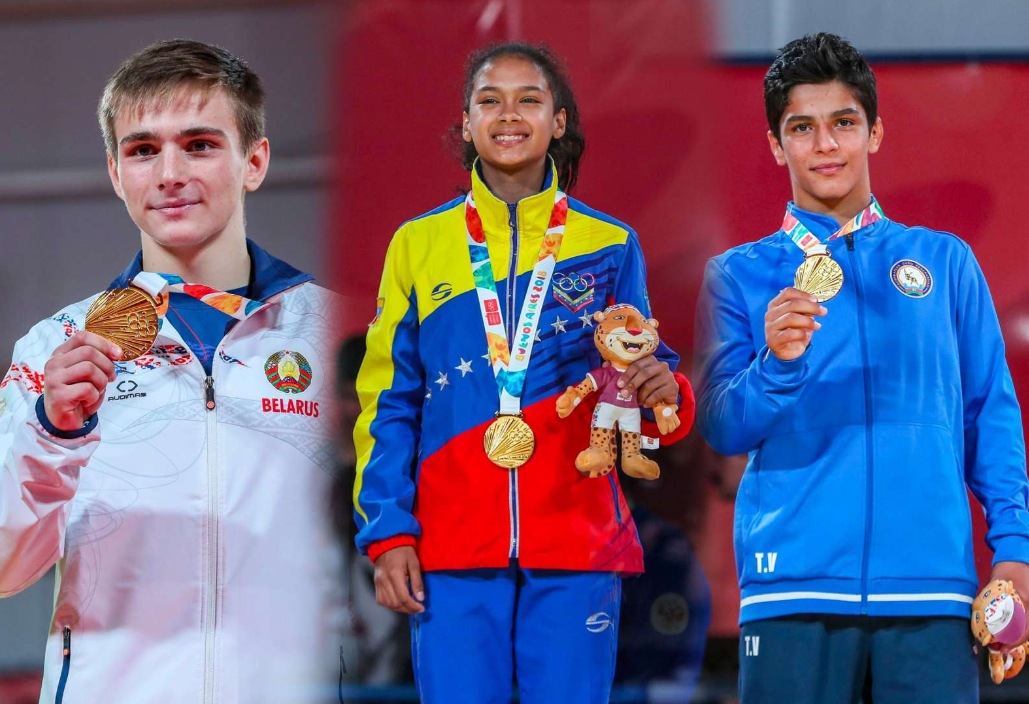 7 Oct 2018 22:30
IJF Media Team / International Judo Federation
At the first day of the Youth Olympic Games in Buenos Aires three young champions were crowned. Artsiom Kolasau (BLR U55kg), Maria Gimenez (VEN -U44kg) and Vugar Talibov (AZE U66kg) took the gold medals.
Belarussian European Cadet champion U55kg Kolasau won in his own weight class at the first day in the final against Mongolian judoka Temuujin Ganburged, the Asian cadet champion. The Belarussian athlete won the contest after he converted a small barai into oseikomi after a good turn. Austrian youngster Daniel Leutgeb took the bronze medal by oseikomi. Oleh Veredyba (UKR) won bronze after a third penalty. It was the first time that Belarus won a youth Olympic medal in judo. The Youth Olympic Games were first held in 2010 in Singapore followed in 2014 in Nanjing.
The men's U66kg title went to Azerbaijan. Vugar Talibov was a little surprise as he finished seventh at the European Championships. His Russian opponent Abrek Naguchev was European Champion this year, but Talibov had his moment of fame in Buenos Aires after the Russian took all the risk and Talibov was never out of balance and controlled the take over. Javier Pena Insausti (ESP) and Antonio Tornal took bronze.
Maria Gimenez of Venezuela once more proved that judo in her country is still developing, maybe not in a political way, as Venezuela used to be suspended as a country by the IJF, but sportswise Venezuela is still impressing. In 2014 in Nanjing Elvismar Rodriguez won bronze but now they have a gold medal. Gimenez defeated Tababi Devi Thangjam of India by a huge uchi-mata. Erza Muminoviq took a historic bronze medal for Kosovo with a superb seoi nage and Ana Viktorija Puljiz won bronze in this category U44kg by o-soto-gari.
After the final of the women's U44kg, Katiuska Santaella, President of the Judo Federation of Venezuela was ecstatic: "I am so emotional that it's difficult to describe what I feel now. As I am involved in the judogi control of the competitors, I couldn't really cheer for my athletes throughout the day and I had to control myself. She had a difficult morning, but contest after contest, she gained confidence and in the final she was simply unbeatable. The situation in Venezuela is not an easy one right now, but Maria is such a nice person and so motivated that everything was and is possible. It's the first time that Venezuela wins a medal of that level. It means so much for all of us and it is the perfect illustration of all the dedication of everyone who is involved. The support of the IJF was tremendous. Without it, nothing would have been possible."
The first day of competition was witnessed by IJF President Marius Vizer and had the presence of the IOC President Thomas Bach. "I am always really happy to visit judo during the Olympic Games. There are many reasons for that but among the top three reasons are first the way judo has positively changed over the past years, the format of judo having become very attractive, second is the distribution of medals in judo, which shows clearly the dimension of the sport, and third but not least the social dimension of judo and all the Judo for Children, Judo in Schools and Judo for Peace programmes as it was very well shown during the Olympism in Action forum yesterday, really make a difference."
The first day of competition was witnessed by IJF President Marius Vizer and had the presence of the IOC President Thomas Bach. "I am always really happy to visit judo during the Olympic Games. There are many reasons for that but among the top three reasons are first the way judo has positively changed over the past years, the format of judo having become very attractive, second is the distribution of medals in judo, which shows clearly the dimension of the sport, and third but not least the social dimension of judo and all the Judo for Children, Judo in Schools and Judo for Peace programmes as it was very well shown during the Olympism in Action forum yesterday, really make a difference."