The latest Judo News offered by JudoInside.com
Teen Josie Steele Youngest Winner at British Euro Open
Mike Varey - Elitepix / British Judo Association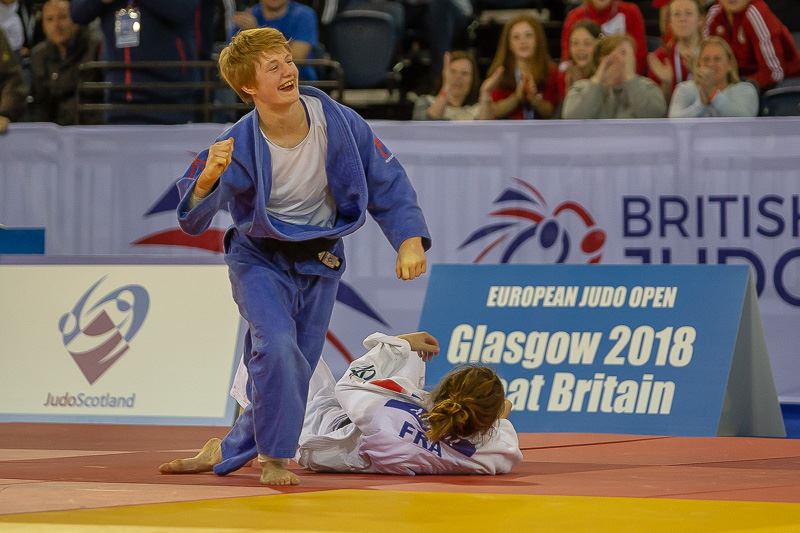 France clearly dominated the European Open in Glasgow. With four gold medals and four silvers, there were French finalists in six of the seven weight classes. The French swept the women's U48kg weightclass, winning gold, silver, and bronze.
Marine L'Henry (24) celebrated her gold medal as she defeated Melodie Vaugarny in an all-French final. Shirine Boukli and Cinta Garcia Mesa won bronze for Spain. 2011 European Champion Penelope Bonna couldn't close the door to being an athlete. While the coach of many youngsters, the 30-year-old is clearly still capable of winning international events, defeating Nathalie Rouviere, a judoka from Luxembourg now fighting for Germany, in the U52kg final. Doriane Colman and Julia Rosso, both French made it a French speaking podium.
Teenager Josie Steele was the surprise of the day, wining the U57kg gold by defeating 2012 Olympic bronze medalist and double world bronze medalist Automne Pavia. The event was quite a success for Pavia as well, who was making her first international appearance after having her first child two years ago. Steele, who was British cadet champion two years ago as well as this year's Scottish Open, has never won such a major tournament. She became the youngest winner in this European Open's history (a former GB Open World Cup held annually since 2007). Steele is 5 days younger than Simeon Catharina (NED), who was formerly the youngest winner ever in 2016. The category U57kg saw quite a strong podium with British promise Steele, Pavia, Dewy Karthaus (NED) and Sappho Coban (GER).
Winner Josie Steele commented on her surprise victory, saying, "It's amazing as this is a top event. I don't realize. I know I am one of the youngest and had no expectations whatsoever. I was really nervous but as the day went on I really enjoyed the atmosphere. I took the fight with Automne Pavia like every other fight and it came out as a win."
Maelle Di Cintio continued France's success, winning the last gold of the day in U63kg and her third at a European Open. In the final she bested Austria's Tina Zeltner, who is enjoying a nice revival in her career since the beginning of the year. Maria Centtrachio of Italy lost to Zeltner in the semis but won her bronze medal contest. Cristina Cabana Perez (ESP) took bronze as well, and bagged her fifth World Cup medal.
French lightweight Vincent Limare won the Grand Prix of Qingdao in 2014 but had never won a European Open. He captured his first victory at this level in Glasgow, a welcome addition to his already impressive collection of results that include a silver medal at the Grand Slam Paris in 2015 and silver at the Masters in 2016. Today in Glasgow Limare defeated Antoine Bidault in another all-French final, giving the winner of this year's Belgian Open his first European Open medal. Jolan Florimont took bronze and Miguel Pisco won bronze for Portugal.
Alexander Short was another success story for Great Britain, winning the U66kg gold and recording his best result-to-date at the age of 21. Short defeated Adrian Nieto Chinarro of Spain in the final, with his compatriot David Garcia Torne winning bronze along with Kenneth van Gansbeke of Belgium. Short of his success: "I can't believe it, I wasn't expecting this and it's a great feeling and it's nice to show something for all the hard work. Actually I didn't have expectations. I just wanted to take each fight and build up the day. The crowd really made a difference, although I don't hear them in the fight and try to focus. I'm just happy. "
German Robert Barwig prevented another French victory in U73kg. In the final he was able to stop Julian La Rocca. Barwig (23) had never won gold at this level, and it is evident that the winner of this year's European Cup in Celje is continuing his progress. He has won three German bronze national medals but a gold medal of this caliber is a novelty. Mickael Dubois (FRA) and Roy Schipper (NED) took bronze in his new category.
Related judoka and events
Related Judo Photos
Related Judo Videos
Related Judo News

Francesca Viola (ITA)
20 years
| Result | City | Date |
| --- | --- | --- |
| 7 | Paris | 2020 |
| 1 | Tel Aviv | 2020 |
| 5 | Abu Dhabi | 2019 |
| 3 | Tokyo | 2019 |
| 7 | Ekaterinburg | 2019 |
| Result | City | Date |
| --- | --- | --- |
| 3 | Paris | 2020 |
| 3 | Brasilia | 2019 |
| 1 | Zagreb | 2019 |
| 1 | Budapest | 2019 |
| 7 | Hohhot | 2019 |