The latest Judo News offered by JudoInside.com
Relieved Guram Tushishvili celebrates third Georgian World title with fans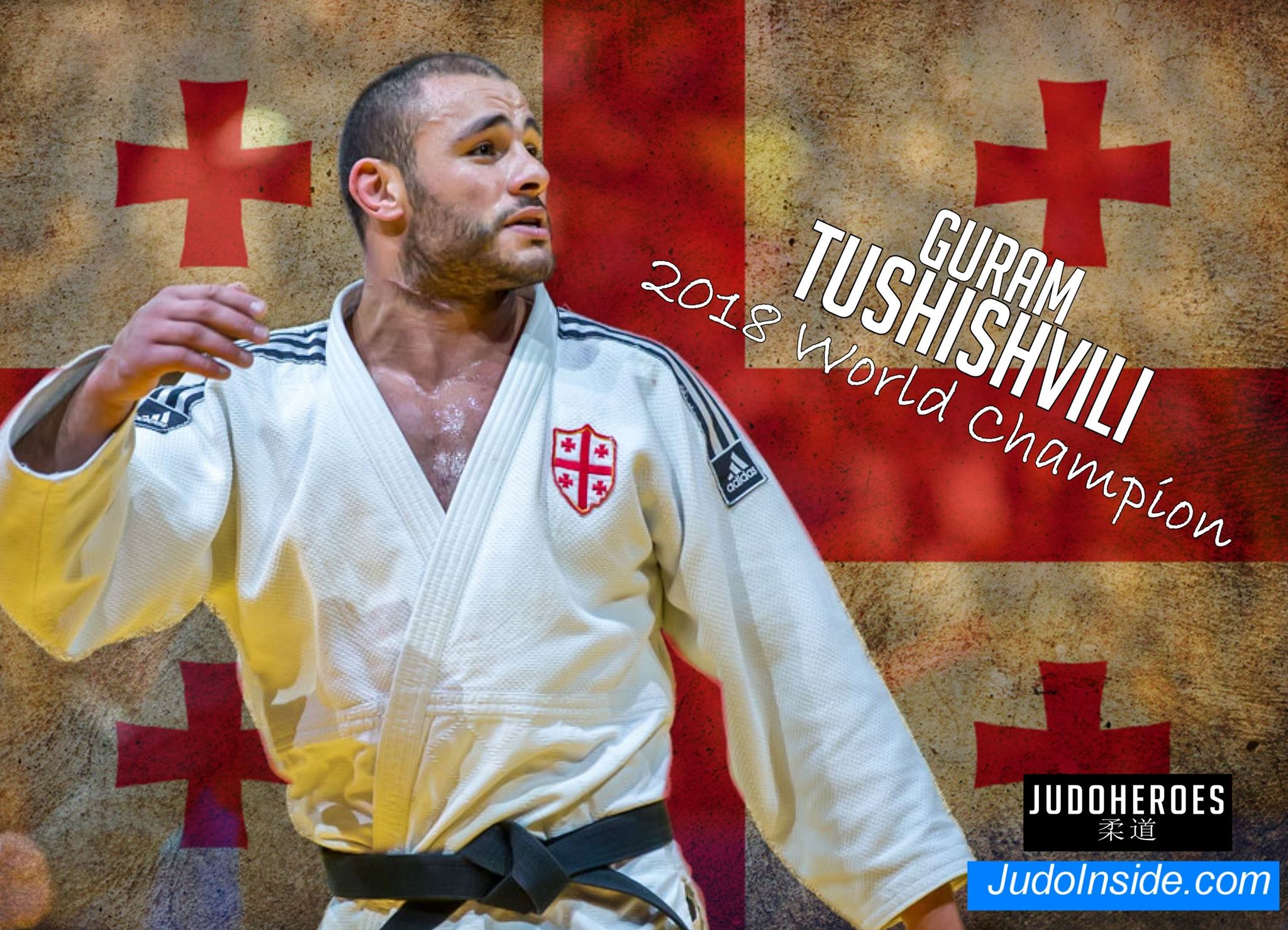 The miracle has happened, Teddy Riner said it, Guram Tushishvili of Georgia was the man to look out for as next World Champion. Without Riner the championship got a new dimension but the favourites failed, the only who kept performing in style was Tushishvili who showed good offensive judo and could stand the surprise semi finallists.
In the final both Azeri and Georgians screamed both warriors to the gold. Guram Tushishvili tried to get the grip and the surprising Ushangi Kokauri tried to hold him off. Kokauri then had a good attempt for an attack the match went into the next gear. A mistake was made by Guram Tushishvili and he scored a wazari and he escaped for oseikomi but Kokauri was the one leading now but it was taken off as Tushishvili didn't land on his side. Tushishvili got away and all Georgians wanted to prevent a second silver medal. The last Georgian World Champion was Tchrikishvili in 2014 and Kokauri need all breath. Not much later in the last five seconds it was Tushishvili to score for a successful seoi nage. The miracle was done. After Tsirekidze in 2007 and Tchrikishvili in 2014 they celebrate a new world champion in Tushishvili. In the end with gold, silver and bronze it wasn't a bad championships for Georgia.
In the bronze medal contest Hisayoshi Harasawa threw Oltiboev for ippon and gave Japan the last medal. In the last minute Harasawa Oltiboev up and scored with a combination of o-uchi-gari and finished with o-soto-gari.
Lukas Krpalek of Czech Republic faced Ulziibayar Duurenbayar of Mongolia for his bronze medal contest. Krpalek only won World medals in the U100kg category where he was so successful and won the Olympic title. Krpalek who is a good groundworker as we had seen in the semi final and beat Ulziibayar twice. Both were Junior World Champion but also Ulziibayar has had a great development and grew over Mongolian legend Naidan who lost two Krpalek in his third contest today. The match just didn't have the fireworks you would expect from two explosive fighters. Ulziibayar didn't allow Krpalek to take the sleeve and the time went on into golden score. After a minute Ulziibayar had to attack and did with a good sumi gaeshi and Krpalek sacrificed himself but with no technique and Ulziibayar propelled himself forward to push Krpalek to the ground. Mongolia won the sixth medal for his country in front of the President.
Mongolian Ulziibayar Duurenbayar and Guram Tushishvili knew each-other and the Mongolian won a previous contest. In the semi final of the worlds, the world number one of Georgia tried to throw the bigger 2014 World Junior Champion, but after two minutes he prepared the final attempt. Tushishvili threw Ulziibayar for ippon. After his silver at the World Open, Tushishvili demanded the gold medal today.
The crowd erupted when Ushangi Kokauri entered the stadium for the semi final against Bekmurod Oltiboev and in twenty seconds it was Kokauri who threw Oltiboev by o-uchi-gari for ippon. Kokauri knew it and the crowd screamed and coach Elkhan Mammadov for such a surprising world final. Kokauri moved to Azerbaijan in 2013 as before he was Georgian.
In a first exciting repechage match Roy Meyer started with fire against Hisayoshi Harasawa in the first repechage with three unbelievable attacks against the tall Japanese in the first 30 seconds. With some gymnastics Harasawa avoided to be thrown. Meyer showed great stamina today with excellent offensive judo and also have Guram Tushishvili a real hard time. Harasawa was able to control the pace of the match quickly. The relatively small Meyer had to move a lot and avoid the dominant grip of Harasawa. Still no score after four minutes. After one minute in extra time it was Hasarawa who showed some attacks followed by one take over for a sloppy upright attack by Meyer, but the Hasarawa took him over for ippon.
Lukas Krpalek (CZE) persisted in good ground work in his repechage match against Temur Rakhimov of Tajikistan and converted his efforts into oseikomi.
Related judoka and events
Related Judo Photos
Related Judo Videos
Related Judo News

Inge Ekenhorst (NED)
28 years
| Result | City | Date |
| --- | --- | --- |
| 2 | Düsseldorf | 21 Feb |
| 1 | Budapest | 2019 |
| 2 | Qingdao | 2019 |
| 1 | Osaka | 2019 |
| 1 | Odivelas | 2019 |
| Result | City | Date |
| --- | --- | --- |
| 1 | Düsseldorf | 21 Feb |
| 2 | Osaka | 2019 |
| 1 | Tokyo | 2019 |
| 1 | Tokyo | 2019 |
| 1 | Hohhot | 2019 |