The latest Judo News offered by JudoInside.com
Sarah Asahina Crowned as World heavyweight Champion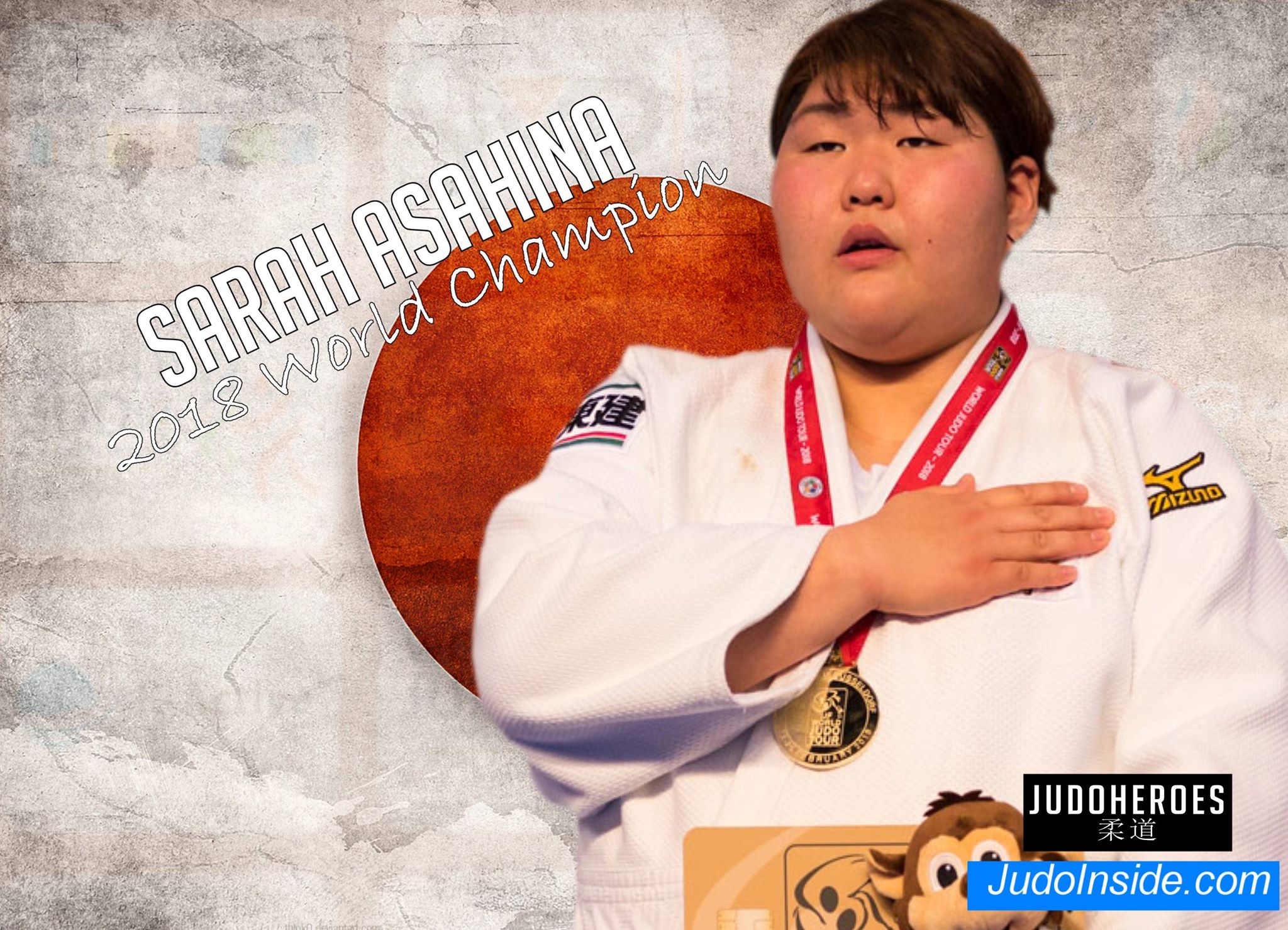 Japanese heavyweight Sarah Asahina won the world title in Baku after a boring final in which both women were too fatigued to throw each other. After a third penalty it was Asahina who was awarded the victory, giving Japan their seventh gold medal, 50% of all available titles, and even more medals than last year's World Championships in Budapest.
The final of the +78kg category World Championships saw a clash of the old generation against new. Asahina and Ortiz had met twice, the first encounter being in 2012 when Asahina was just 16, and the second being in 2017 in the semifinal of the World Open, a match that Asahina won. Asahina fought cautiously, aware that Ortiz isn't known as a particularly active player, but one with strong throwing abilities. Ortiz quickly accumulated two penalties, playing into Asahina's gampeplan, but Asahina accumulated two of her own shortly thereafter. Ortiz only managed to attempt a few weak attacks, putting herself in danger of being penalized for a third and final time. The golden score period was an equally-dull affair, but Asahina was clearly in the driver's seat. After more than six minutes, Ortiz was given her third penalty, and Asahina was crowned as World Champion. Ortiz has now won all medal colors at the World Championships with two gold, one silver, and four bronzes in nine years.
Bosnian Larisa Ceric fought British surprise Sarah Adlington in the bronze medal match. Adlington was on fire today and has never reached such a major medal contest, never having come further than the 1/8 final, and although she has 24 World Cup medals to her name, only once has she won a medal at a Grand Slam. It was Ceric who entered the match as favorite, being the smaller and faster athlete, though they both fight from the left side, leading to a scoreless draw during regular time. Thirty seconds into extra time Ceric attacked with a delayed maki-komi, giving the Bosnian her match-clinching score. Ceric, who finished fifth in 2013 and won silver in the open category, now owns a medal in a weight class category at the World Championships, another confirmation that she belongs in the class of the world's absolute best, only losing to the winner.
Kayra Sayit of Turkey immediately began her bronze medal match against Maria Suelen Altheman (BRA) with an attack, scoring wazari after thirty seconds. Altheman fought back with determination, almost succeeding in mounting a comeback. Though a relatively slow contest, the athletes were equally matched, and Altheman couldn't find an equalizer for Brazil. Turkey had a very successful championship with two medals, their second best ever performance behind 1999.
In the semifinal Maria Suelen Altheman (BRA) entered the contest with a career record of 0-12 against Idalys Ortiz, not an ideal statistic with which to have, but an opportunity for redemption nonetheless. She played the contest cautiously, having to use everything in her arsenal in order to overcome the Cuban for her first time. Suelen Altheman kept Ortiz at bay in regular time, leading to golden score. There were no mentionable attacks in the first five minutes of golden score, until Ortiz attempted three small tehcniques and followed a matte with an sode-tsuri-gomi-goshi, rolling Altheman into a score for wazari.
Larisa Ceric didn't have a record against semi-finalist Sarah Asahina to be confident about either, owning a sobering 0-3 mark over her career against the world number two. The semifinal matchup was a repeat of the November World Open final in Marrakech, where Asahina won. After two minutes Asahina needed just one attack to throw the slimmer Ceric by ippon via a Sasae, qualifying the Japanese for the final.
Sarah Adlington reached the final five by countering Ivana Maranic of Croatia as she attempted to mount a comeback. The Briton reacted immediately and was awarded wazari in the third minute, maintaining her lead and scoring a victory.
Kayra Sayit of Turkey defeated Iryna Kindzerska of Azerbaijan in the second repechage by a soft sasae 21 seconds into the golden score, outbalancing Kindzerska.
Related judoka and events
Related Judo Photos
Related Judo Videos
Related Judo News
Rina Tatsukawa (JPN)
24 years
| Result | City | Date |
| --- | --- | --- |
| 2 | Düsseldorf | 21 Feb |
| 1 | Budapest | 2019 |
| 2 | Qingdao | 2019 |
| 1 | Osaka | 2019 |
| 1 | Odivelas | 2019 |
| Result | City | Date |
| --- | --- | --- |
| 1 | Düsseldorf | 21 Feb |
| 2 | Osaka | 2019 |
| 1 | Tokyo | 2019 |
| 1 | Tokyo | 2019 |
| 1 | Hohhot | 2019 |