Nikoloz Sherazadishvili writes new history for Spanish judo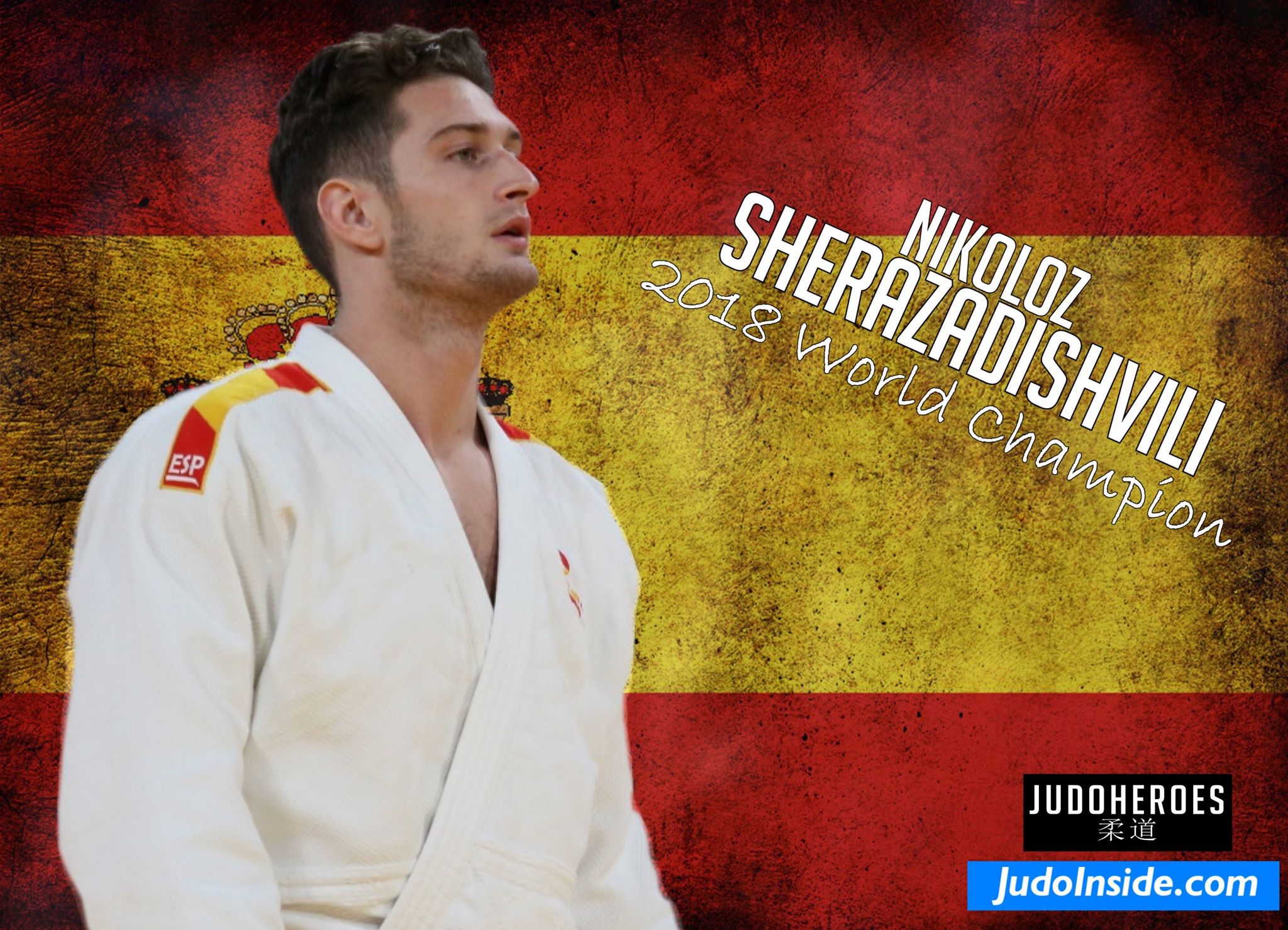 24 Sep 2018 16:10
JudoHeroes
Spain cheers for Nikoloz Sherazadishvili as first Spanish man to take the world title since the first World Championships in 1951. Sherazadishvili was the most consistent during day 5 in Baku and he finished his match with a great uchimata after again a long contest, two minutes in extra time. Born in Tbilisi Georgia, and moved to Spain seven years ago.
Nikoloz Sherazadishvili is the new world number one and made the expectations come true. Sherazadishvili knew he could be the first male Spaniard to take the world title. Sugoi Uriarte came close in 2009 and Miriam Blasco (1991) and Isabel Fernandez (1997) achieved to win the world title before for Spain. Who would have expected Ivan Silva Morales in the final of the World Championships? Still it had to happen on the tatami where both athletes are 22 and were equal in head2heads. After two minutes Silva Morales took the lead after an attack from Sherazadishvili. The number of takeover and sloppy attacks is typical for today's surprises. Many key moments were bad attacks taken over. The lefty Silva against the right-handed Sherazadishvili wanted similar things but 50 seconds for the end it was Sherazadishvili to switch direction and score wazari, both equal with no penalties into the golden score.
After two minutes in the golden score Silva allowed a hand on his back of Sherazadishvili and it was just searching for the right moment until the uchimata was launched and he has the height to direct it and turn silva onto his back. The former Georgian fighter who always represented Spain, Nikoloz Sherazadishvili, became the first Spanish man to win the world title in judo.
The two warriors for the bronze medal bout made it a nice spectacle in their last bout. Toth Krisztian and Nagasawa Kenta both scored a wazari, first Nagasawa, the Toth and both drive each-other to the golden score. In fact a situation that both don't want, neither Nagasawa nor Toth who has a rib injury didn't want to have an extension. Toth caught Nagasawa almost for a second time after one minute in extra time. Toth can go all flanks, left, right and tried a left seoi nage, but all without success. At those unexpected moments its all alerts on red with a Japanese opponent as they can score from any situation. After almost three minutes in the fight both had a penalty but Toth was the most active while their legs and shoulders hurt so much. No power to keep the grip and both got sloppy. Toth fought like a lion, but Nagasawa benefit with an easy take over and scored the decisive point and the bronze. We got to admit, Japanese are amazing finishers of medal bouts.
Eduard Trippel of Germany and Axel Clerget of France fought for the bronze medal. Clerget was unlucky with small finger injuries and he kept pulling his fingers to optimise his grip. After one minute in the match Clerget made an attack but was taken over by Trippel. The French technician tried to win on the ground and succeeded after two minutes completely out of surprise, it was the only solution to win against the better shaped Trippel. A classic juji gatame in seconds, Trippel gave him the space to grip in his neck and strangled him effectively. For the first time in nine years after the seventh place for Clerget at the World's in Rotterdam, he won his first medal at the world championships as his biggest success at the age of 31, ten years younger than Trippel.
In the semi final Ivan Silva Morales Caught Axel Clerget with a number of attacks and Clerget knew he gave it away against Silva who made it to the final.
Krisztian Toth and Nikoloz Sherazadishvili showcased excellent judo but the Spaniard grew so well last years and took the world number one position. After six minutes in the final, Toth was again sloppy with his unbalanced seoi nage and it was easy for the Spaniard to take over the Hungarian lion.
Sixteen second for the end it was Kenta Nagasawa who threw Ustopiriyon with a big tsuri goshi for wazari and finished the repechage match just in time.
Sherazadishvili was a gentleman all day, polite, styleful, respectful and the new world champion.
Eduard Trippel won against Asley Gonzalez for fusen gashi due to an injury in the first repechage and Trippel kept the medal chances alive in a fantastic tournament for him. He won his first medals in Spain in 2011 and won the Spanish cadet title in 2012. Since then it only got better with a Junior European medal in 2014 and World silver in 2014 as well. He repeated that silver world medal in 2015 and won the junior silver in 2016 again. So now having that GOLD medal is extra special.