The latest Judo News offered by JudoInside.com
With the 2017 Budapest rules the Japan Korea match-up would have had another winner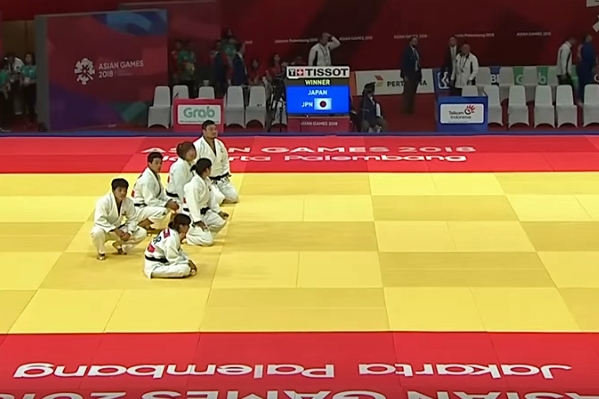 JudoCrazy analysed the mixed team contest between Japan and South Korea in the quarter finals of the Asian Games. Judo analyst Oon Yeoh refers to his analysis to the 2017 World Championships rules, as those would have delivered another winner of the match-up.
First match: Tamaoki (JPN) beat Kwon (KOR) by Hansoku-Make
Second Match: An (KOR) beat Ebinuma (JPN) by Ippon (Tai-Otoshi)
Third Match: Niizoe (JPN) beat Jeong (KOR) by Ippon (Uchimata)
Fourth Match: Gwak (KOR) beat Kobayashi (JPN) by Waza-Ari (Kosoto)
Fifth Match: Kim (KOR) beat Yamamoto (JPN) by Hansoku-Make
Sixth Match: Kageura (JPN) beat Kim (KOR) by Hansoku-Make
So in the end, the result was 3:3 (three wins each). When there is an even score like this, the points are tallied to determine the winner. This is where the controversy arises.
South Korea was deemed to have 21 points based on the following:
10 points for one Ippon
10 points for one Hansoku-Make win
1 point for one Waza-Ari
Japan was deemed to have 30 points based on the following:
20 points for two Hansoku-Make wins.
10 points for one Ippon.
In the end, Japan was declared the winner by 30 points to South Korea's 21 points.
This immediately raises the question of whether hansoku-make should be allocated 10 points (the equivalent of ippon). Yes, it can be argued that when uke gets hansoku-make, tori gets ippon, therefore a hansoku-make win should be treated like an ippon win and be accorded 10 points.
That's one argument and it has its logic. But at the same time, isn't there a current push to promote positive judo, emphasizing throws over penalty wins? That's one of the reasons it's no longer possible to win a match in regular time or in Golden Score by shido anymore. The rationale for this rule change (no more wins by shido) is to encourage throws and not shido play. That being the case, how can you justify giving 10 points for a hansoku-make win?
It's also worth noting that for the 2017 Budapest World Championships team event, the rules stated that a shido win would be equal to ZERO points (back in 2017, it was possible to win by a shido).
In essence, what the rules were saying was that you should not win by penalties. If you win by penalties, you get no points for that win. If you go by that maxim, then there should be no points for hansoku-make wins either. Although a hansoku-make involves three shidos, it's still considered a penalty win. Logically, there should be no points assigned to it if what you want to do is encourage positive judo (winning by ippon).
And if that were the case, South Korea would have won by 11 points to 10 points (Japan). That's because South Korea got 1 ippon and 1 waza-ari = 11 points. Japan, in contrast got only 1 ippon = 10 points.
It's also worth noting that a waza-ari is worth only 1 point. That is quite strange since two waza-aris = ippon. Why a waza-ari is worth only 1 point instead of 5 points is a mystery but perhaps it has to do with the desire to encourage big ippon throws. Maybe that's why a waza-ari is worth only 1 point. But if so, surely winning by hansoku-make should be discouraged too and perhaps be assigned only 1 point as well.
Let's just imagine for a moment if the rules were such that a hansoku-make win was worth only 1 point. Then, South Korea would have had 12 points and Japan 12 points. It would be a draw not just in wins but in points as well. And what happens when there is a draw in wins and in points?
According to the 2017 Budapest World Championships rules:
If the number of scoring points are equal, a random draw will be made and one couple will re-fight a Golden Score contest where the first score or penalty of any kind decides the winning team.
Now, that would have been a more satisfactory conclusion to an exciting South Korea vs Japan team contest!
Related judoka and events
Related Judo News

Viktoriia Vasilchenko (RUS)
23 years
| Result | City | Date |
| --- | --- | --- |
| 1 | Brasilia | 2019 |
| 1 | Montreal | 2019 |
| 1 | Marrakech | 2017 |
| 1 | Zagreb | 2017 |
| 3 | Budapest | 2017 |
| Result | City | Date |
| --- | --- | --- |
| 1 | Budapest | 2019 |
| 2 | Qingdao | 2019 |
| 3 | Brasilia | 2019 |
| 1 | Tokyo | 2019 |
| 3 | Montreal | 2019 |