The latest Judo News offered by JudoInside.com
Frank Wieneke successful judoka even more successful as coach
by Oon Yeoh, JudoCrazy Klaus Müller / Watch: https://km-pics.de/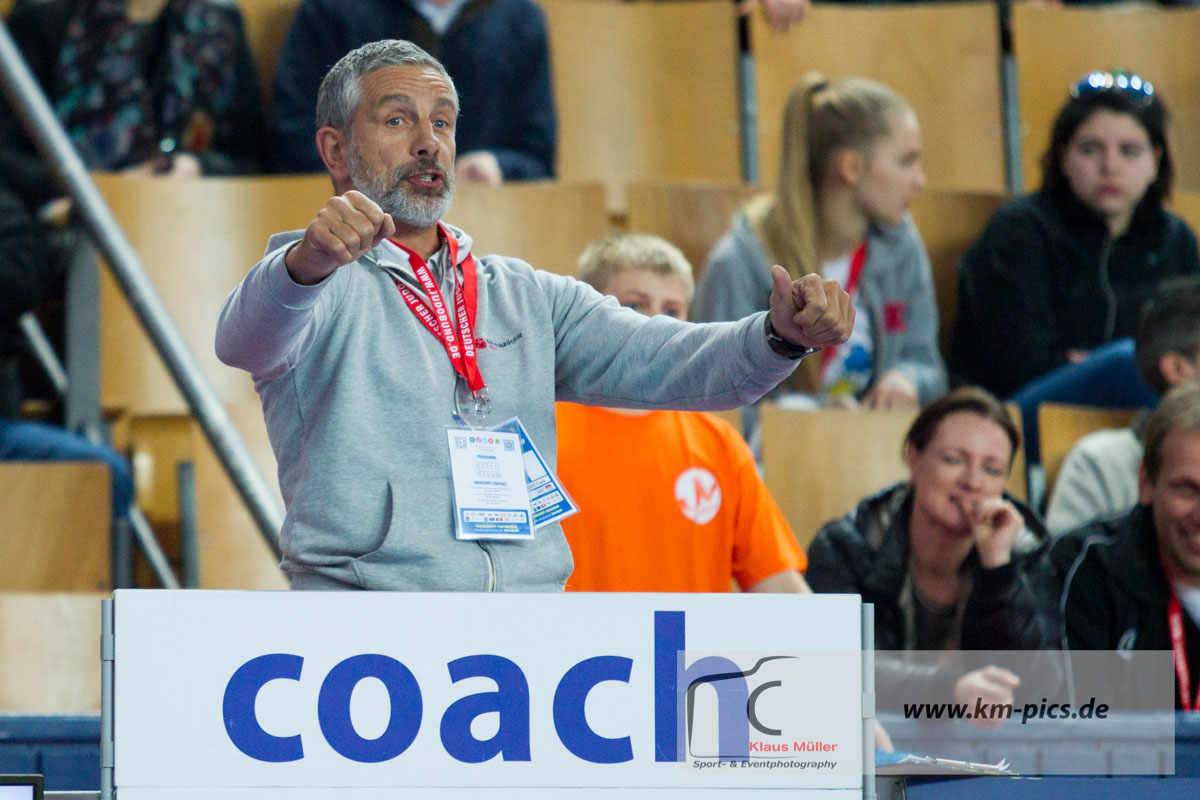 There are not many great players who manage to transition into a great coach. The one who immediately comes to mind is Ezio Gamba, an Olympic champion from Italy who has gone on to coach several Olympic champions from Russia.
Germany's Frank Wieneke enjoys lesser acclaim although he has achieved what few former champions have done: build up a World and an Olympic champion.
The competitor
Wieneke was one of those unusual players whose best performance was reserved for the Olympics. Although he has a gold and a silver medal at the Olympics, he was unable to get a single World Championship medal of any color during the course of his competitive career which spanned 1983 to 1991.
Wieneke went into the 1984 LA Olympics as a relative unknown. He had competed in the European Championships and the World Championships the year before but he got no medals in those competitions. However, Wieneke would exceed everyone's expectations in the LA.
His first match was a relatively easy one against a player from Ivory Coast but his second one was very tough. He was drawn up against Hiromitsu Takano of Japan, the man who had beaten out 1983 World Champion Nobutoshi Hikage for a spot on the Japanese Olympic team.
Wieneke used an interesting combination to take Takano down. First he entered with a one-handed uchimata. Just as Takano recovered from that attack, Wieneke followed up with a well-timed kosoto-gari. This only earned him a minor score but that was enough to win him the match.
His subsequent matches were not quite as tough although his opponents were hardly pushovers. On the way to the final he would have to get through two tough opponents, Canada's Kevin Doherty and Romania's Mircea Fratica.
This brought him up against Neil Adams of Great Britain. Adams had lost in the previous year's World Championships to Hikage but since Hikage was not in LA, the Briton was considered the favorite to win the gold.
Adams had the psychological advantage as he had beaten Wieneke in the previous year's European Championships. This was evident from the start with attacks coming furiously from the Briton. Adams attacked first with a very low tai-otoshi that knocked Wieneke down onto his front. No score. Then Adams attacked with a drop sode-tsurikomi-goshi, followed by a yoko-tomoe-nage. Again, no score but Adams was certainly ahead on attacks. Adams then came in with another tai-otoshi but this time it was killed dead by Wieneke who seemed to be in full defense mode.
As if to showcase the vastness of his repertoire, Adams proceeded to knock Wieneke down with kouchi-gari but the German youngster managed to spin out onto his front. Again, no score but Wieneke was way behind on attacks. This didn't matter because the first attack that Wieneke made would would be the decisive one.
He came in with a one-handed uchimata attack just as he had done earlier against Takano except this time, the follow up was not kosoto-gari but drop ippon-seoi-nage. This caught Adams totally by surprise and he was flung over onto his back. Slow motion replay showed that Adams was thrown largely -- but not completly -- on his back It could have easily been given a waza-ari (Adams later said in an interview that he thought it was just worth a yuko) but an ippon was given with no corner judges objecting. Wieneke had scored the upset of the tournament beating one of the biggest names in judo at the time.
There were great expectations of this new German star but in the 1985 Seoul World Championships Wieneke lost in the first round to Peter Reiter of Austria. In the 1987 Essen World Championships he was expected to do better as he had the benefit of home ground advantage. As it turned out, Wieneke did just a little bit better, advancing to the second round where he lost to the Frenchman Jean-Michel Berthet.
By the time the 1988 Seoul Olympics came around, Wieneke was no longer considered a top contender having failed to perform in two World Championships in a row. But it was at the Olympics where he would again shine.
He had a tough draw. His first round match was against Austria's Reiter who had beaten him in Seoul in 1985. But this time, it was Wieneke who would prevail. Also in his way was the Frenchman Pascal Tayot who had earlier taken out the top favorite, Hirotaka Okada of Japan. Wieneke managed to beat Tayot and found himself in the semi-final against the tough East German Torsten Brechot.
Brechot had beaten Wieneke before, in the first round of the 1985 Hamar European Championships. Interestingly, Brechot had earlier in the day beaten Neil Adams who was making his last hurrah in the Olympics. But Wieneke would not be denied and he managed to beat Brechot this time around.
That brought him up against Poland's Waldemar Legien in the final. They had fought once before, in the 1986 Belgrade European Championships where Wieneke was the winner. Both were heavy grip fighters whose main technique was drop ippon-seoi-nage. The similarity in their fighting styles nullified each other's attacks but in the end it was Legien's drop seoi-nage that shone through. With time running out, Wieneke was the aggressor. He was pushing forward when Legien slipped underneath and whirled him over with a slick drop seoi-nage for ippon.
He had lost the Olympic gold with the same technique that he had used to win his Olympic gold four years earlier. Still, it was an awesome performance by a player whom many had considered to be past his prime.
Wieneke would give the World Championships one more shot before retiring. In the 1989 Belgrade World Championships he made it to the semi-final but was beaten by the aggressive South Korean Kim Byung-Joo. His chance for a World Championship medal was dashed when he lost the subsequent bronze medal match to Legien.
Wieneke would retire from competition shortly after that and successfully transition into a top-level coach.
The coach
Many former competitors would go on to become coaches. A few would become national-level coaches. Even fewer would be able to produce a World or Olympic Champion. Wieneke has produced both.
Florian Wanner
He was the coach for Florian Wanner, an underdog in the 2003 Osaka World Championships, who defied expectations by defeating the tough Japanese Yoshihiro Akiyama in the semi-final. The Japanese had scored earlier in the match and seemed to be content to ride the time out. With only a few seconds left in the match Wieneke could be seen shouting at the matside telling his player not to give up. Wanner responded with a massive osoto-gari for ippon with just six seconds left in the match. This brought him into the final against the capable Swiss player, Sergei Aschwanden, Wanner, egged on by Wieneke, would go on to win with a spectacular tani-otoshi for ippon. This was Wineke's first big success as a coach.
Ole Bischof
Wieneke was the coach of Ole Bischof at the 2008 Beijing Olympic Games. Bischof had what could only be called a super hard draw. He had to fight the tough American Travis Stevens, World Champion and Olympic silver medalist Tiago Camilo of Brazil, and Olympic silver medalist Roman Gontiuk of Ukraine to make it to the final, where he would meet and defeat Kim Jae-Bum of South Korea (who would in later years become Olympic Champion and double World Champion). With Bischof's Olympic victory, Wieneke would secure his place in history as one of the very few former top champions who could in turn produce champions at the World and Olympic level.
This article was produced by JudoCrazy of Oon Yeoh.
Related judoka and events
Related Judo Photos
Related Judo Videos
Related Judo News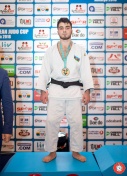 Ibrahim Aghakishiyev (AZE)
3 years
| Result | City | Date |
| --- | --- | --- |
| 1 | Budapest | 23 Oct |
| 2 | Düsseldorf | 21 Feb |
| 1 | Budapest | 2019 |
| 2 | Qingdao | 2019 |
| 1 | Osaka | 2019 |
| Result | City | Date |
| --- | --- | --- |
| 1 | Düsseldorf | 21 Feb |
| 2 | Osaka | 2019 |
| 1 | Tokyo | 2019 |
| 1 | Tokyo | 2019 |
| 1 | Hohhot | 2019 |