The latest Judo News offered by JudoInside.com
Teddy Riner won't compete at 2018 and 2019 World Championships
JudoHeroes & IJF / Copyright: www.ijf.org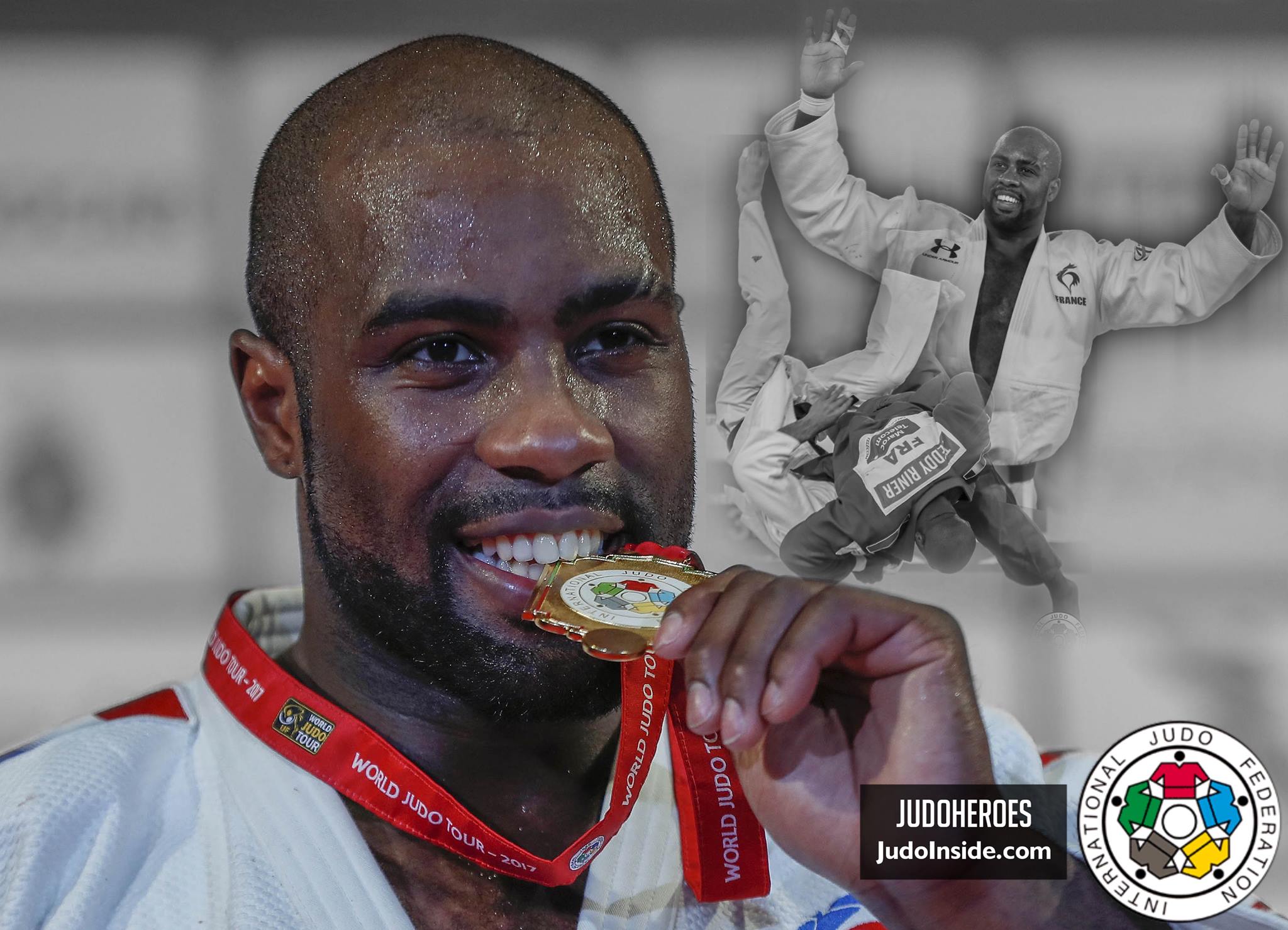 Teddy Riner will not compete at the 2018 World Championships in Baku and in 2019. The 10 time World Champion from France who is arguably the world's most dominant athlete in judo, will reportedly skip the next two world championships before the 2020 Tokyo Olympics.
French coach Franck Chambily said Riner will compete a light international schedule the next two years ahead of what would be his fourth Olympics.
Riner, a 29-year-old, 6-foot-8-inch native of Guadeloupe, is undefeated since 2010 with a reported 144-match winning streak. That includes Olympic titles in 2012 and 2016 and world titles in 2011, 2013, 2014, 2015 and 2017.
Before the streak, Riner also earned world titles in 2007, 2009 and 2010, plus an Olympic bronze at age 19 in 2008. His aim is to continue gold in 2020 in Tokyo and he could compete through the 2024 Paris Games of which is was one of the ambassadors.
Teddy Riner reacts to his absence at the Baku World Championships: "Unfortunately no, these are hard choices to make - but I have to do them to best manage my career and I need to rest a bit on some years to continue until 2024 .. why not?"
The Olympic qualifying is about to begin at the Hohhot Grand Prix in China but the World Tour will be without Riner for a while.
Riner: The love of my sport! And I'm still young and still have a lot of fun on the tatami - as long as I have things to learn to be better in my sport, as long as I want to go get medals, I'll continue!
Against the IJF he spoke about his social media role. "It is important to be able to communicate with your fans as closely as possible, to share privileged moments so that they are always with you a little, so that they feel closer to you."
IJF: Who are your toughest opponents and how do you prepare to defeat them?
"With the international level today - everyone can beat everyone - the level has really improved a lot and I have to adapt constantly - This is the key and that is valid whatever the sport! In any case I have never underestimated an opponent, it is the base."
IJF: What is your favorite value in judo and why?
"The respect and the courage - without respect we can not fight - it also allows me outside the tatami to grow as a man, to grow well. So yes respect is a value that guides me."
Related judoka and events
Related Judo Photos
Related Judo Videos
Related Judo News