The latest Judo News offered by JudoInside.com
French Flam91 European Club Champion for women in Wuppertal
Klaus Müller / Watch: https://km-pics.de/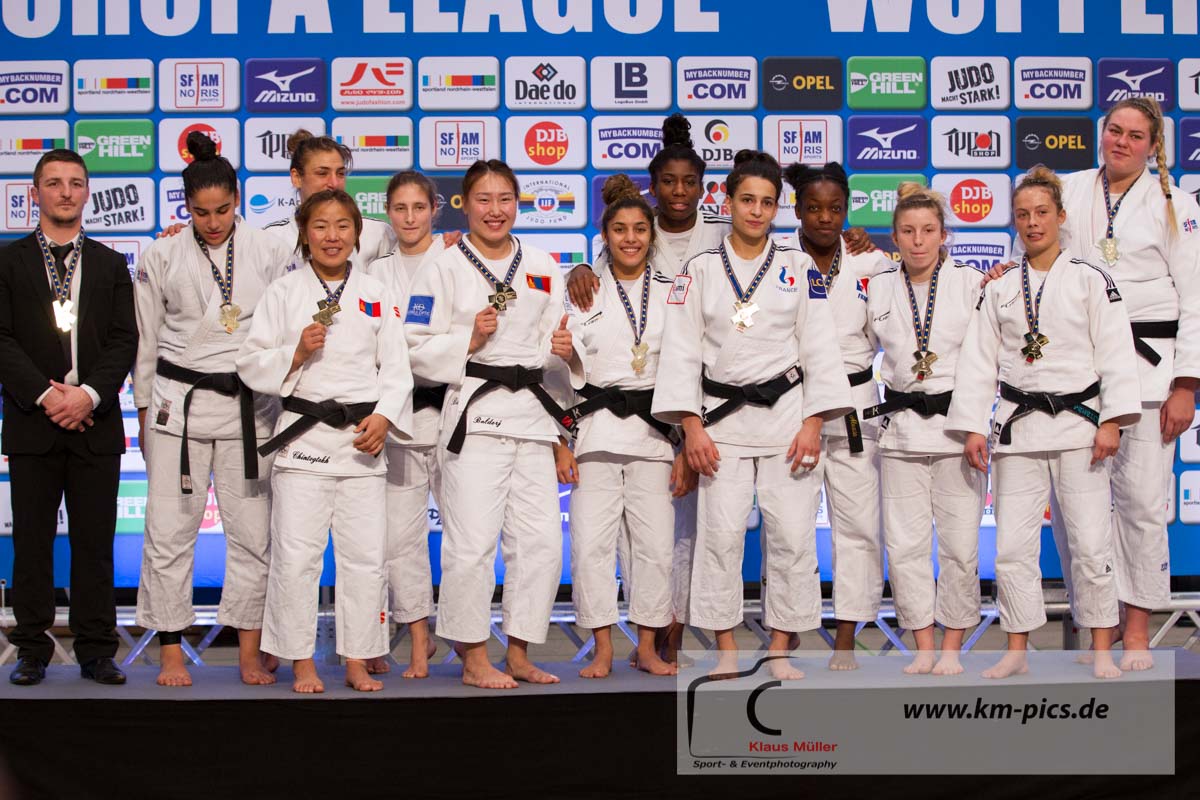 French women's team FLAM'91 are the new European Club Champions. In Wuppertal the French bested the German team of MönchenGladbach. Strong women were gathered in Wuppertal and many athletes were hired to strengthen the teams.
Azzaya Chintogtokhh of Mongolia is traditional one of the members of Flam '91. Last year in Belgrade the team couldn't get a medal, but this edition they were the best after a 4-1 victory against MönchenGladbach. Sarah Harachi added the 2-0 for the French against Sappho Coban. Marielle Pruvost was decisive with the 3-0 after she bested Stephanie Manfrahs. Marie-Eve Gahie defeated Laura Vargas-Koch for the 4-0 and only Maike Ziech was able to win her contest against Sarra Mzougui.
Coach Baptiste Leroy was truly happy with his first victory: "We had a few important aces in our team that made essential victories and in the end gave us the gold medal and qualification for the Golden League next year."
The French came into the final via wins over TSG Backnang (3-2), another strong team from Germany. Then the Russians of New Stream were defeated by 5-0 in the semi final. MönchenGladbach progressed via victories over Maisons Alfort, The European Champions of 2013 and in the semi final JC Vinkovci was defeated by the Germans.
JC Vinkovci, a team of some of the best Croatian women captured the bronze medal after they overcame RSV Montreuil. Even with one weight category not available, the Croatian women won by 3-2 after victories by Tena Sikic, Lucija Babic and Barbara Matic.
Fiamma Gialle Roma with some of the best Italians in the team bested New Stream of Tyumen by 3-2. The Italian didn't have the lightweight U52kg so Darya Skypnik (BLR) had an easy walkover. Daria Mezhetskaia set the Russians to 2-0, but Edwige Gwend, Alice Bellandi and Assunta Galeone gave the team of coach Ylenia Scapin the bronze medal.
On Monday everyone left Wuppertal by bus.
Related judoka and events
Related Judo Photos
Related Judo News

Jelena Tasic (SRB)
19 years
| Result | City | Date |
| --- | --- | --- |
| 5 | Düsseldorf | 22 Feb |
| 1 | Perth | 2019 |
| 1 | Tashkent | 2019 |
| 3 | Tashkent | 2018 |
| 7 | Baku | 2018 |
| Result | City | Date |
| --- | --- | --- |
| 7 | Düsseldorf | 23 Feb |
| 2 | Tel Aviv | 25 Jan |
| 1 | Tashkent | 2019 |
| 7 | Zagreb | 2019 |
| 3 | Minsk | 2019 |