The latest Judo News offered by JudoInside.com
Mums in judo: Laura Gomez: how to get back on the mat after pregnancy?
by Sarah Loko Guerschner Athlete Instagram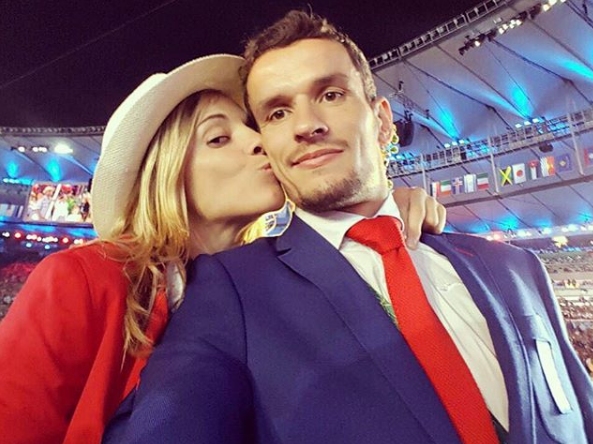 This week for the second story of mums in judo, Judoinside met the Spanish fighter from Valencia, Laura Gomez. The Rio 2016 Olympian in the 52kg weight division is already back on the track , after she gave birth to a little Unai, in August.
Gomez' family life with a baby is a tough combination with judo, but her husband Sugoi Uriarte supports her everywhere. Laura's last appearance on the mat was last year, at European Club Championships in Serbia. Her squad composed of high level judoka like Elvismar Rodriguez, Isabel Puche and Julia Figueroa. The team became European champion and qualified for the next Golden League. The competition will take place on November 25th in Ankara, Turkey. Laura is aiming to compete and make history with Judo Club Valencia.
Spanish Laura Gomez won European bronze in 2013 in Budapest U52kg. She won the Universiade in Belgrade (Student World Championships) in 2009. Gomez competed at five World Championships and 6 European Championships and the 2016 Olympic Games. Gomez collected 24 World Cup medals with victories in Abu Dhabi and Almaty.
Eight teams for men and eight teams for women will face each other next month. "Fighting again in the IJF World Tour is not on my mind for the moment because it represents lot of sacrifices but I am really motivated to be ready for the Golden League" said the wife of Sugoi Uriarte , also Rio Olympian, vice world champion in 2009 and European champion in 2010 in the category up to 66kg. Laura wants to have fun and share good moments with her team mates. Her weight is actually not good but she is losing step by step. In her opinion becoming a mum has lot of disadvantages particularly regarding the weight: "With the baby sometimes you have no time to go out and buy the food for a perfect diet and you just eat what you find in the fridge."
Even if she is aware that her body changed and the road back will be probably long, she admits that competing again after pregnancy is difficult but possible. She gave the example of Yahima Ramirez from Portugal, 37 years old , still fighting after giving birth and recently bronze medalist at the Grand Prix in Zagreb. But slow down, for the moment Laura is just happy to be back on the training, it is too early to talk about Grand Prix and Grand Slams.
Laura can rely on the unconditional support of her husband Sugoi also a member of Judo Club Valencia. It's for them clearly an asset to train in the same place and while family is looking after Unai, the most famous judo couple of Spain does judo and physical sessions without stress. They have been knowing each other since their childhood and Sugoi is clearly a judo genius in Laura's opinion. Because of his incredible knowledge of her opponents she even named him "Sugopedia". He was there for every sad and joyful moments of her career and above all on her way to Rio Olympic Games last year. Laura is not sure she can make it for the Golden League or if she will coach the team in the case the shape is not good but for sure she will have a 100% commitment in both cases.
Becoming a mum is for her also "a revolution and women need courage to face this tough period" especially during their career. If Laura is preparing for the greatest clubs tournament of the year, Sugoi will be among the 5 fighters of the men's team who will compete in Germany for the European Club championships in Wuppertal, the same day. The continental second division is waiting for 30 teams on the start list. The 33 years old fighter will probably struggle in under 73kg. Let's see if the warriors couple manage to take the challenge despite their new family life.
Related judoka and events
Related Judo Photos
Related Judo Videos
Related Judo News
Roman Bekulov (RUS)
34 years
| Result | City | Date |
| --- | --- | --- |
| 1 | Antalya | 1 Apr |
| 1 | Düsseldorf | 2020 |
| 1 | Osaka | 2019 |
| 1 | Tokyo | 2019 |
| 3 | Tokyo | 2019 |
| Result | City | Date |
| --- | --- | --- |
| 1 | Antalya | 1 Apr |
| 3 | Tbilisi | 26 Mar |
| 1 | Paris | 2020 |
| 1 | Budapest | 2019 |
| 1 | Tokyo | 2019 |