The latest Judo News offered by JudoInside.com
Hidayat Heydarov prolongs European Junior title after Azeri final
Rok Rakun / Slovenian Judo Federation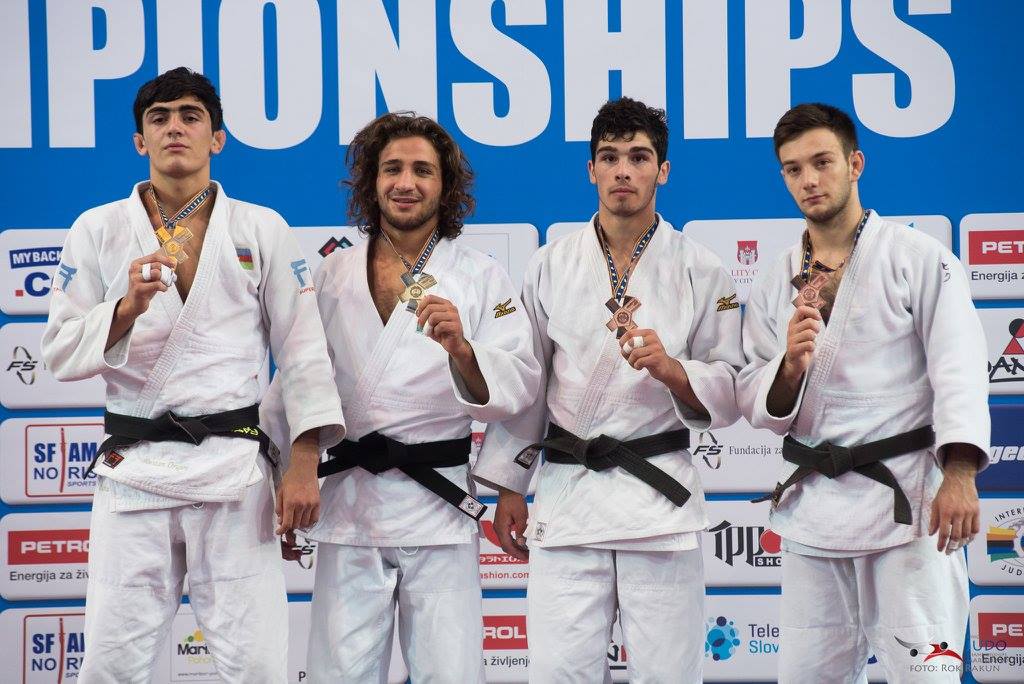 The junior team of Azerbaijan claimed six medals on the first day of the European Championships in Maribor. Highlights were the gold medals for Hidayat Heydarov U73kg and Karamat Huseynov U60kg. No medals yet for the home-crowd of Slovenia that saw the Dutch women take two gold medals as well.
Two Champions prolonged their title in Slovenia starting with French Justine Deleuil who claimed the title U44kg. The French defeated Belgian Lois Petit another time in a final, just like the Cadet European Championships final in 2014.
Another one who captured the title was Hidayat Heydarov U73kg. Many expected this as Heydarov is very mature with a fifth place finish at the World Senior Championships, the European title this year, and reigning Junior Champion. A unique list of honour despite the 36 rivals today. All in all Heydarovs compatriot Murad Fatiyev reached the final and for the first time in European history an all Azeri final decided by three penalties for Fatiyev in a somewhat boring last final of the day.
Azerbaijan celebrated six medals and the first gold was achieved by Karamat Huseynov. In his category U60kg his opponent was Jorre Verstraeten, another successful Belgian this season. The Belgians overcame number one seed Neil MacDonald (GBR), first Verstraeten in the semi final and Naoufal Ez Zerrad for bronze in the golden score. Huseynov bested Ramazan Abdulaev (RUS) in the semi and defeated Verstraeten in the final. Last year Huseynov lost the battle for bronze in Malaga and both men had lost a final at the EYOF: Verstraeten in 2013, Huseynov in 2015. Now he won the jackpot in style as he defeated Jorre Verstraeten in 12 seconds with a lightening-quick left seoi nage.
2015 Cadet European and World Champion Denislav Ivanov added another impressive title, the junior Europeans. In Maribor he defeated five opponents including Italian silver medallist Gabrielle Sulli in the final after two minutes when he got his ideal back grip to set up a huge throw. Number one seed Manuel Lombardo (ITA) got caught in his first fight by German Michel Adam, who won bronze.
Russian Murtaz Sheriev brought the title U55kg back to Russia for the first time in eight years. It could have been another Azeri victory, like last year, but Sheriev bested Rashkan Bakhishayilev in the final.
The Dutch junior women were the best and efficient today with victories for Amber Gersjes, who won the title for Holland for the first since 1996 in this category U48kg. She won the title U44kg in 2015 and welcomed her progression after a tight final against Laura Martinez Abelanda. In the golden score Gersjes scored wazari with an uchimata. All previous European Junior Champions already show success at the senior level: Lokmanhekim, Dolgova, Pupp, and Bilodid, the current European senior champion who didn't participate.
Larissa van Krevel has good competition in her own country U57kg but dealt with today's international pressure the best way possible. Van Krevel, who has never won a medal at an individual European Championships, struck with five victories and defeated Acelya Toprak (GBR) in the final by shime-waza after she threw her for wazari earlier in the match and made a superb transition on the ground. Van Krevel defeated highest seed Julia Kowalczyk (POL) in the final, Kowalczyk won bronze eventually against Jorien Visser (NED). Sarah Leonie Cysique took bronze after her victory against Vera Zemanova (CZE).
Turkey celebrated gold for Irem Korkmaz after last year's loss in the final in Malaga; now she has converted that lesson into gold. In her class U52kg, Korkmaz defeated Betina Temelkova of Israel in the last of her four fights. Temelkova, a former Cadet European Champion for Bulgaria, had also lost the EYOF, another European Cadets final, Youth Olympic final and European Junior final in 2015, but couldn't turn the tide in her last junior year. Lots of lessons on day one in Maribor witnessed by the Slovenian vice World Champion Michael Zgank. He also learned that even a silver medal is not a bad result once you bit on your tongue just after that loss. Korkmaz caught Temelkova on the ground by osaekomi in the last minute and showed her Turkish pride.
On Saturday more action with the heavier juniors where host Slovenia will have more medal chances.
Related judoka and events
Related Judo Photos
Related Judo Videos
Related Judo News

Amy Platten (GBR)
20 years
| Result | City | Date |
| --- | --- | --- |
| 1 | Budapest | 23 Oct |
| 2 | Düsseldorf | 21 Feb |
| 1 | Budapest | 2019 |
| 2 | Qingdao | 2019 |
| 1 | Osaka | 2019 |
| Result | City | Date |
| --- | --- | --- |
| 1 | Düsseldorf | 21 Feb |
| 2 | Osaka | 2019 |
| 1 | Tokyo | 2019 |
| 1 | Tokyo | 2019 |
| 1 | Hohhot | 2019 |