The latest Judo News offered by JudoInside.com
Eight new World Ranking leaders set Japan back to the top
IJF Media Team / International Judo Federation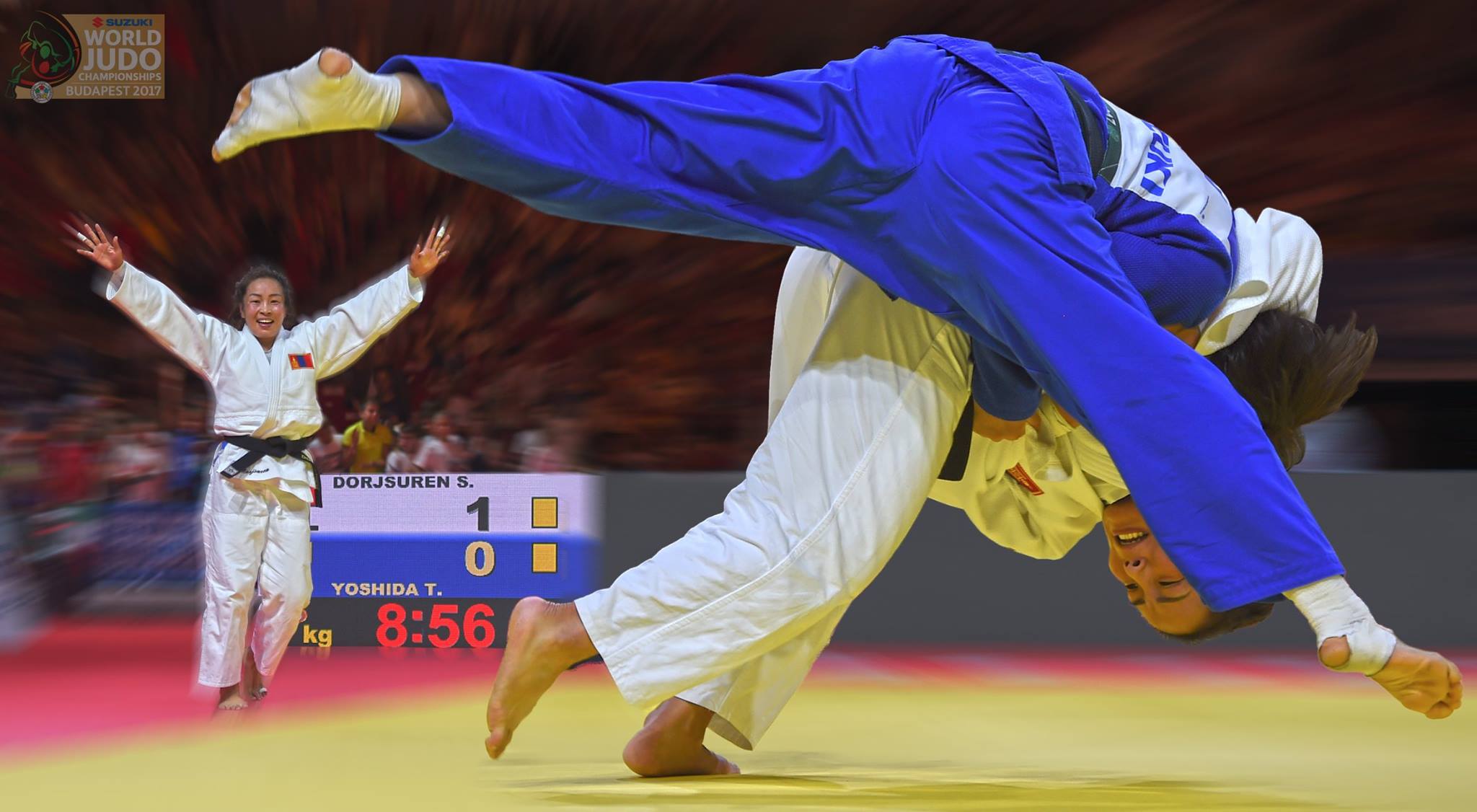 On Monday the new IJF World Ranking was released with eight new world ranking leaders. Soichi Hashimoto (U73kg) and Sumiya Dorjsuren (U57kg) were number one last week and also won the world title. It's not about the ranking but about the performance. Four male World Ranking leaders of last week didn't make a medal, three women didn't make a medal and heavyweight Slutskaya couldn't participate in Budapest. We introduce the new Ranking leaders.
U60kg Naohisa Takato is now double World Champion in 2017 and 2013 in Rio de Janeiro. He won bronze at the worlds in Chelyabinsk in 2014. Takato also won the World Junior title in 2011 in Cape Town and started his young career also in Budapest at the first World U17 Champion in Budapest in 2009. He was a favourite for many and made that expectation come true. Last week's number one Amiran Papinashvili didn't win a medal.
U66kg Hifume Abe won the Youth Olympic Games in Nanjing in 2014. Fought the World Junior Championships final in 2014. Won silver at the World Cadet Championships in Miami. Abe won the Grand Prix Tashkent in 2015. He won the Kodokan Cup in Chiba in 2014. He won the Grand Slam in Tyumen and Grand Slam in Tokyo in 2016 as youngest winner. In 2017 he won the Grand Slam in Paris.
U73kg Soichi Hashimoto won even two gold medals and is stabily leading for quite some time.
U81kg Khasan Khalmurzaev of Russia won the Olympic title in Rio in 2016 in the final against Travis Stevens. In 2016 he became European Champion and won the Grand Prix of Havana. Khasan was World U17 Champion also in Budapest in 2009 U73kg. He took over the position of Alan Khubetsov.
U90kg Aleksandar Kukolj is still number one, he finished fifth. He compeyriot Nemanja Majdov of Serbia won the world title and is now ranked second.
U100kg Despite his fifth place Dutchman Michael Korrel is still leading as Aaron Wolf won the world title without being seeded.
+100kg David Moura ended with silver behind Teddy Riner. Moura led the World Ranking since June.
U48kg Urantsetseg Munkhbat regained the World Champion that she won as well in 2013 in Rio de Janeiro. Munkhbat was seventh at the Olympic Games in London U48 and fifth at the Olympic Games in Rio. In Budapest she took silver behind Funa Tonaka.
U52kg Shishime Ai took the world title in Budapest. Ai won the Grand Prix in Düsseldorf in 2016 and Grand Slam in Tyumen in 2016. She became Japanese champion and surprised World number one Kelmendi in the semi final.
U57kg Sumiya Dorjsuren is now strongly leading her category with her first world title and silver in Rio.
U63kg Tina Trstenjak set her goals on a medal in Budapest and took silver behind Agbegnenou who regained her world title of 2014. Trstenjak won all prices in her career and is firmly leading the world ranking.
U70kg Chizuru Arai won the world title after Haruka Tachimoto already the Olympic title in this category last year. Arai won the Grand Slam in Paris and Grand Prix Düsseldorf this year and she was poised to take the world title which she did defeating Maria Perez.
U78kg Mayra Aguiar is double World Champion in 2017 and in 2014 in Chelyabinsk. It was her fifth World Championships medal and she won Olympic Games bronze in Rio in 2016 and London 2012. Not a surprise that she took over the world ranking led by Guusje Steenhius until last week.
+78kg Sarah Asahina is the number one although she lost the world final against Yu Song who retained the title. Asahina is one the right track, being just 20, but despite her disappointment we can expect her to be dominant soon.
Last week Japan had only one world leader in Hashimoto, now they count six. Brazil and Mongolia have two. Four leaders come from Europe where last week there were nine. A expected big shift in world judo.
Watch the judo VIDEO interviews with the stars below
Related judoka and events
Related Judo Photos
Related Judo Videos
Related Judo News
All judo results of
Teddy Riner
,
Daria Bilodid
,
Tadahiro Nomura
,
Shohei Ono
,
Ronda Rousey
,
Majlinda Kelmendi
,
Clarisse Agbegnenou
,
Ilias Iliadis
,
Flávio Canto
,
Fabio Basile
,
Joshiro Maruyama
,
Naohisa Takato
,
Hifumi Abe
,
Uta Abe
,
Rafaela Silva
,
Lukas Krpálek
,
Tina Trstenjak
,
Kayla Harrison
,
Tsogtbaatar Tsend-Ochir
,
Nemanja Majdov
,
Jorge Fonseca
,
Nikoloz Sherazadishvili
,
Guram Tushishvili
,
Varlam Liparteliani
,
Sagi Muki
,
Noël Van 't End
,
Saeid Mollaei
,
Christa Deguchi
,
Manuel Lombardo
,
Marie Eve Gahié
,
Lukhumi Chkhvimiani
,
Distria Krasniqi
and
142000+
other judoka in
627000+
results and
420000+
judo matches including the recent
Grand Slam Düsseldorf
,
Grand Slam Paris
,
Grand Slam Osaka
,
World Championships Tokyo
,
World Championships Baku
and
15000+
major judo events. More judo info than you can analyse 24/7! Share your results with your judo network.
Become an Insider!