The latest Judo News offered by JudoInside.com
Sumiya Dorjsuren gives Mongolia the long desired gold U57kg
IJF Media Team / International Judo Federation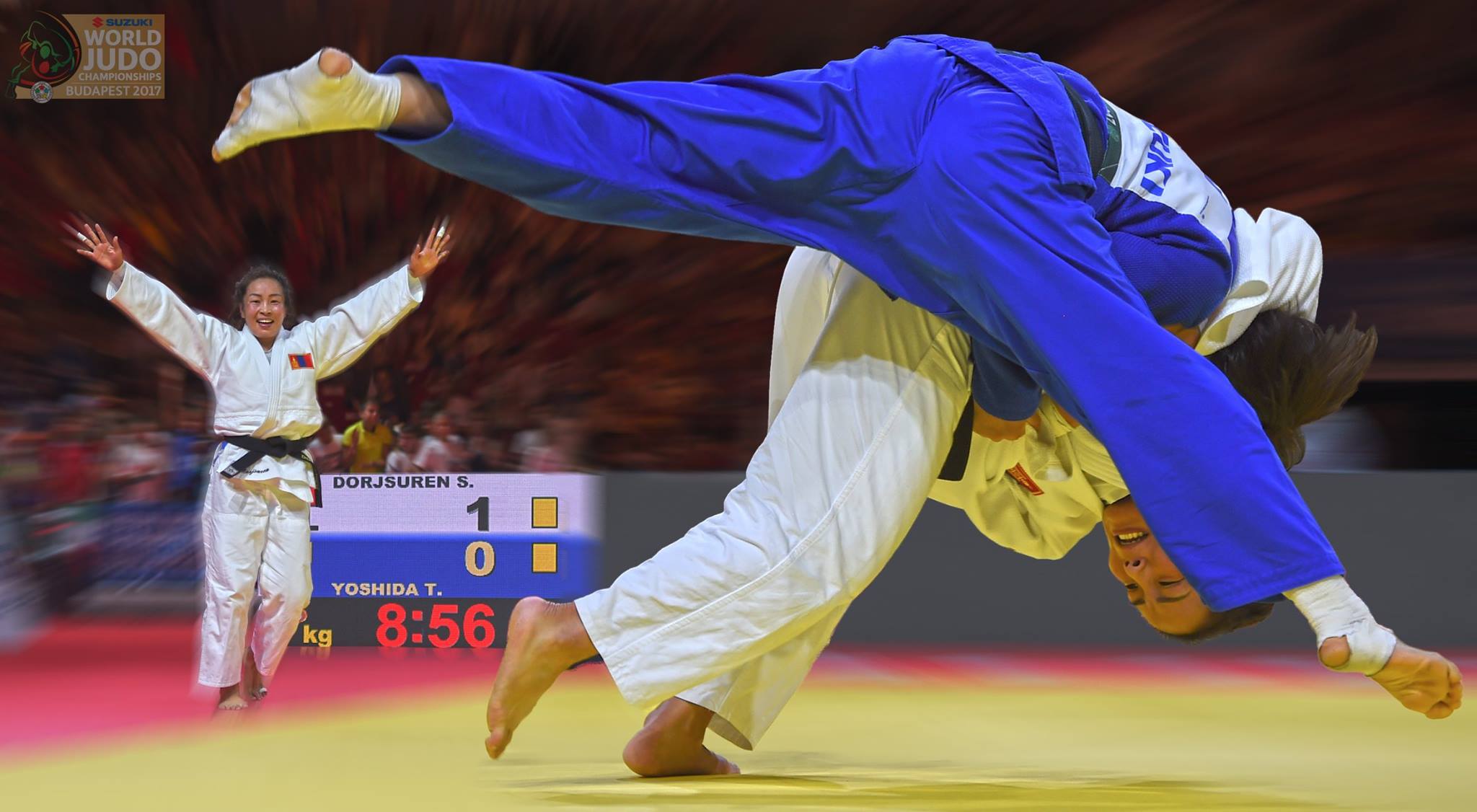 Mongolia finally have what they want; justice. The World title is for Sumiya Dorjsuren who may be the strongest over the last two years including the Olympic Games, but that doesn't count if you don't go home with the gold medal, now Dorjsuren does.
The final was epic, not beautiful but legendary. By the end the crowd were on their feet cheering both sides on - giving them the energy to keep going. 4 minutes of contest, and 8 minutes 56 seconds of Golden Score - Nothing could separate these extraordinary Judoka, but it was Dorjsuren to score at last. One last mammoth effort from Dorjsuren of Mongolia meant she finally scored the decisive Waza-ari against Japan's Yoshida, a true feat of endurance.
The World number one defeated Tsukasa Yoshida in the final U57kg. Dorjsuren is the second woman to win the world title for her country. In 2013 Munkhbat won gold, in 2009 Khashbaatar Tsgaanbaatar was the first man, followed by Ganbat Boldbaatar in 2014.
Yoshida defeated Dorjsuren three times, all three at the Grand Slam in Tokyo, but this time the Mongolian took the gold, after one of the most exhausting matches this tournament.
Dorjsuren won bronze at the World Championships in 2015 in Astana and silver at the Grand Prix in Düsseldorf and Hohhot this year, combined with the Olympic silver, that is a lot of silverware. Finally she converted that pain into the ultimate fighting spirit to win the major prize in her career. The winner said: "It was a very long fight, I'm very happy to reach this gold in front of our new president. I communicated with my coach till the end, that's why I could concentrate trough this long final."
Tsukasa Yoshida wasn't satisfied with silver: "It was my ultimate goal to be world champion but to be honest, my opponent was the better than me today. I'm very disappointed with the silver medal, but there is still a lot of time until the Olympics, so this has been a very useful experience. The final was very long and difficult, but my rival managed the situation well."
Dorsjuren won five contests starting with Priscilla Gento, 2016 European Champion, not an easy match to start with but Dorjsuren was clear in her ambitions and defeated the French woman quickly. Then two victories followed before she met with one of today's surprises Miryam Roper of Panama. The 35-year old had a great preliminaries and became the winner of her pool, but the Mongolian was a class too high. Yoshida bested Lkhagvatogoo (MGL), Jovana Rogic (SRB) and Lien (TPE) before she was opposed to Helene Receveaux (FRA). In a tough match Yoshida made it to the final.
It was Helene Receveaux who captured the bronze after all and again gave France a medal in this class, in 2015 it was Automne Pavia to medal. Receveaux outbalanced Telma Monteiro of Portugal in the first minute and didn't give her lead away.
For Receveaux it was her first World Championships medal. The French woman was Junior World Champion in 2010 and won European bronze this year in Warsaw. Monteiro missed out on the medal, she won five World Championships medals before including four lost finals. Her Olympic bronze medal in Rio compensated a lot, although today will; feel as a loss. Receveaux reacted: "This is my first medal from a world championships, this is a good sign of I'm on the right way. I achieved this result on a very high-level event, which increases its value. The bronze medal contest have been very hard, my rival was strong, experienced and succesful, that's why I'm happy to beat her. I believe in a good result at the team event, I would like to get another medal from Budapest."
Nekoda Smythe-Davis was going through a rough year so far, but in Budapest she had the right body, flow and mindset to come to a great performance. For the first time since 2010 Great Britain medalled at a World Championship. Euan Burton was the last, Karina Bryant the last woman in 2009. Unfortunately Miryam Roper, the opponent of Davis, got injured after Davis had scored two yuko. In the last score Roper injured her neck and had to give up. After the event there was no neck fracture. Davis was obviously in a shock, but said: I'm relieved to hear she is alright. I couldn't celebrate it, but I don't believe this medal anyway. This was a tough year with two operations, mentally it was extremely heavy and I still don't believe I was just standing on the podium with a medal. I feel like I'm in a dream and I haven't woke up yet. Today I felt great, I could do my best without injuries, I could focus on judo and I'm really happy with that bronze medal."
Davis was convincing in the chance of her life and she excelled in Budapest. Davis who medalled eight times in the IJF World Tour won her first World championships medal in any age category, a milestone for herself and Great Britain.
Related judoka and events
Related Judo Photos
Related Judo Videos
Related Judo News

Michael Niederdorfer (AUT)
22 years
| Result | City | Date |
| --- | --- | --- |
| 2 | Düsseldorf | 21 Feb |
| 1 | Budapest | 2019 |
| 2 | Qingdao | 2019 |
| 1 | Osaka | 2019 |
| 1 | Odivelas | 2019 |
| Result | City | Date |
| --- | --- | --- |
| 1 | Düsseldorf | 21 Feb |
| 2 | Osaka | 2019 |
| 1 | Tokyo | 2019 |
| 1 | Tokyo | 2019 |
| 1 | Hohhot | 2019 |