The latest Judo News offered by JudoInside.com
Tal Flicker world number one, but 20-Year old Hifumi Abe poised to win U66kg
by JudoInside and JudoCrazy IJF Media Team / International Judo Federation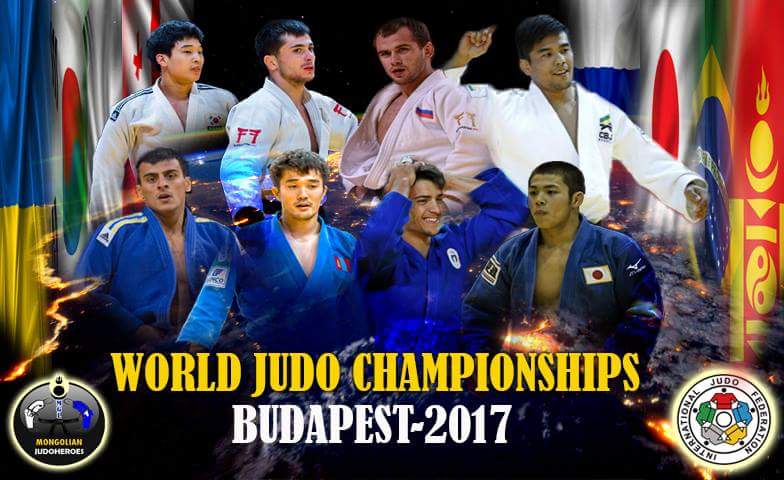 The U66kg division at the World Championships in Budapest is an interesting category with a few top prospects and many dark horses who may just pull off an upset. Tal Flicker of Israel is leading the seeding list since South Korea's An Bauls points got reduced. Flicker is the first man for Israel to lead the IJF World Ranking since the ranking launch in 2009.
But rankings often do not reflect who is the real top favorite. In this case, the one who many people think will win the gold is 5th ranked Hifumi Abe of Japan. An, a former World Champion, is surely a top prospect for the final. He has not fought in many major tournaments since the 2016 Rio Olympics, where he got silver. However, he won the 2017 Asian Championships. He has only fought Abe once, back in 2014 in the World Junior Championships. He lost that one.
Abe, who is still just 20 years old, has a string of stunning victories over the past year. He won gold at the 2016 Tyumen Grand Slam, the 2016 Tokyo Grand Slam, and the 2017 Paris Grand Slam, all very convincingly. There simply isn't any player around who is as dynamic as this young superstar. He is the firm favorite for gold.
One player who might be able to upset him on the way to the top, if they happen to meet in the preliminary rounds, is Mongolia's Tumurkhuleg Davaadorj, who has fought and beaten Abe twice. But this was back in 2015. Abe has come a long way since then. Still, the cagey Mongolian might be Abe's undoing.
Tal Flicker of Israel is the first seeded in the World Ranking since An's Olympic points got reduced. He won in Baku and Cancun this year (it's up or down) and he definitely has the pace to perform and take a first World medal.
Former World Champion Georgii Zantaraia did poorly in the 2016 Rio Olympics, but he has bounced back this year, winning the 2017 European Championships. He was close to an early retirement but the European title brought back his confidence. He also got a silver medal at the 2017 Hohhot Grand Prix. The only time he fought Abe and An was at the same competition, the 2014 Tokyo Grand Slam, where he lost to both of them. But Zantaraia is a such an unpredictable, explosive, and dynamic player. On a good day he can beat anyone in the world and he might just be able to pull it off in Budapest. Read the Zantaraia special in JudoCrazy's Magazine.
Two dark horses with big throws are Nijat Shikhalizada of Azerbaijan and Charles Chibana of Brazil. Neither has fought Abe before. It would be an interesting encounter if they did in Budapest. Another dark horse worth mentioning is Abdula Abdulzhalilov of Russia who has had some very good results lately, including golds at the 2017 Ekaterinburg Grand Slam, the 2017 Antalya Grand Prix and the 2016 Qingdao Grand Prix. He lost to An in 2017 Rome World Cup, though, and he has never fought Abe.
This won't be the quarter final…but theoretically could be
Tal Flicker vs Sergiu Oleinic
Ba-Ul An vs Vazha Margvelashvili
Hifumi Abe vs Charles Chibana
Baruch Shmailov vs Nijat Shikhalizada
Previous World Champions
1999 Larbi Benboudaoud (FRA)
2001 Arash Miresmaeili (IRI)
2003 Arash Miresmaeili (IRI)
2005 João Derly (BRA)
2007 João Derly (BRA)
2009 Tsagaanbaatar Khashbaatar (MGL)
2010 Junpei Morishita (JPN)
2011 Masashi Ebinuma (JPN)
2013 Masashi Ebinuma (JPN)
2014 Masashi Ebinuma (JPN)
2015 Ba-Ul An (KOR)
The Game Changers
Italy's Fabio Basile has only competed once since winning the gold at the 2016 Rio Olympics. He took part in the 2016 Tokyo Grand Slam where he lost his first match to a relatively unknown Japanese player named Norihito Isoda (currently ranked No. 50). Since then he has taken part in a dance contest, but no judo. He has been training over the last few months, however. He is not the favourite, but with his good confidence, this is the podium to get back on top.
You bet the Russians will have a great World Championships team. Mikhail Pulyaev is still among the best players of the world. Not seeded, not in the IJF Tour in 2017, but still a solid medal contender.
Related judoka and events
Related Judo Photos
Related Judo Videos
Related Judo News