The latest Judo News offered by JudoInside.com
IJF Sports Director Jeong Ki -Young gives the example as former World Champion
IJF Media Team / International Judo Federation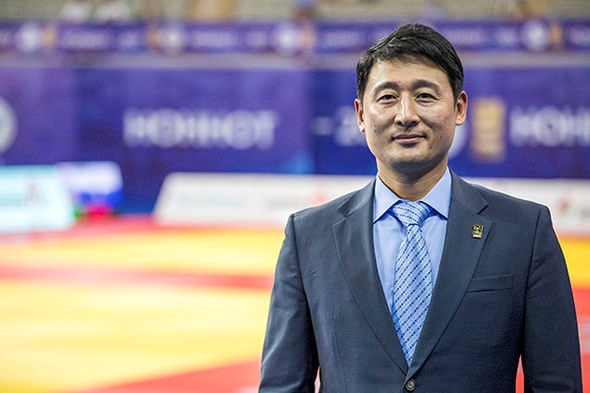 IJF Hall of Famer Jeon Ki-Young (KOR) is one of judo's most celebrated judoka. The Atlanta 1996 Olympic champion, who is now an IJF Sports Director, cast his mind back to his early days in the sport and when he first harboured the ambitions of one day becoming a world champion. Today is his birthday.
"I started judo when I was 12 years old and when I was 16 I won the national championships in middle school. Then it was my dream to win the World Championships, I really felt that I could achieve it.
"When I was in high school I watched the World Championships on television and I remember picking up things and practicing techniques based on what I saw. I was very impressed by the uchi-mata of Mochida Tatsuto (JPN) at the 1989 World Championships when he lost to Kim Byung-Joo (KOR). I learnt to adapt this technique for myself and studied a lot of footage. For me it was more of harai-goshi style and it was unlike what I had seen before."
Jeon went to the World Championships for the first time in 1993 at the age of 20. The South Korean met his future long-term rival and 1992 Olympic champion Yoshida Hidehiko (JPN) in the final and won in a stunning victory.
"I felt very relaxed when I fought at the World Championships for the first time," said Jeon. "This was because I knew I had to put in the time and effort in hard training at our national centre in Seoul and I had a very good condition and was confident. It was a dream come true to win and to do so at this early stage of my career."
Jeon went on to win the Worlds in 1995 and 1997 and retired undefeated at the World Championships with three gold medals from three appearances at judo's annual super show. "Most of my opponents became familiar with my best technique, the left-sided seoi-nage and I could not always succeed with this technique so I worked on many different things. I could do uchi-mata, tai-otoshi and ippon seoi-nage from the other side. I came up with new solutions and this is how I was able to remain as a champion."
Related judoka and events
Related Judo Photos
Related Judo Videos
Related Judo News