The latest Judo News offered by JudoInside.com
Frustrating fourth silver world medal for Telma Monteiro, but still proud to be back
IJF Media Team / International Judo Federation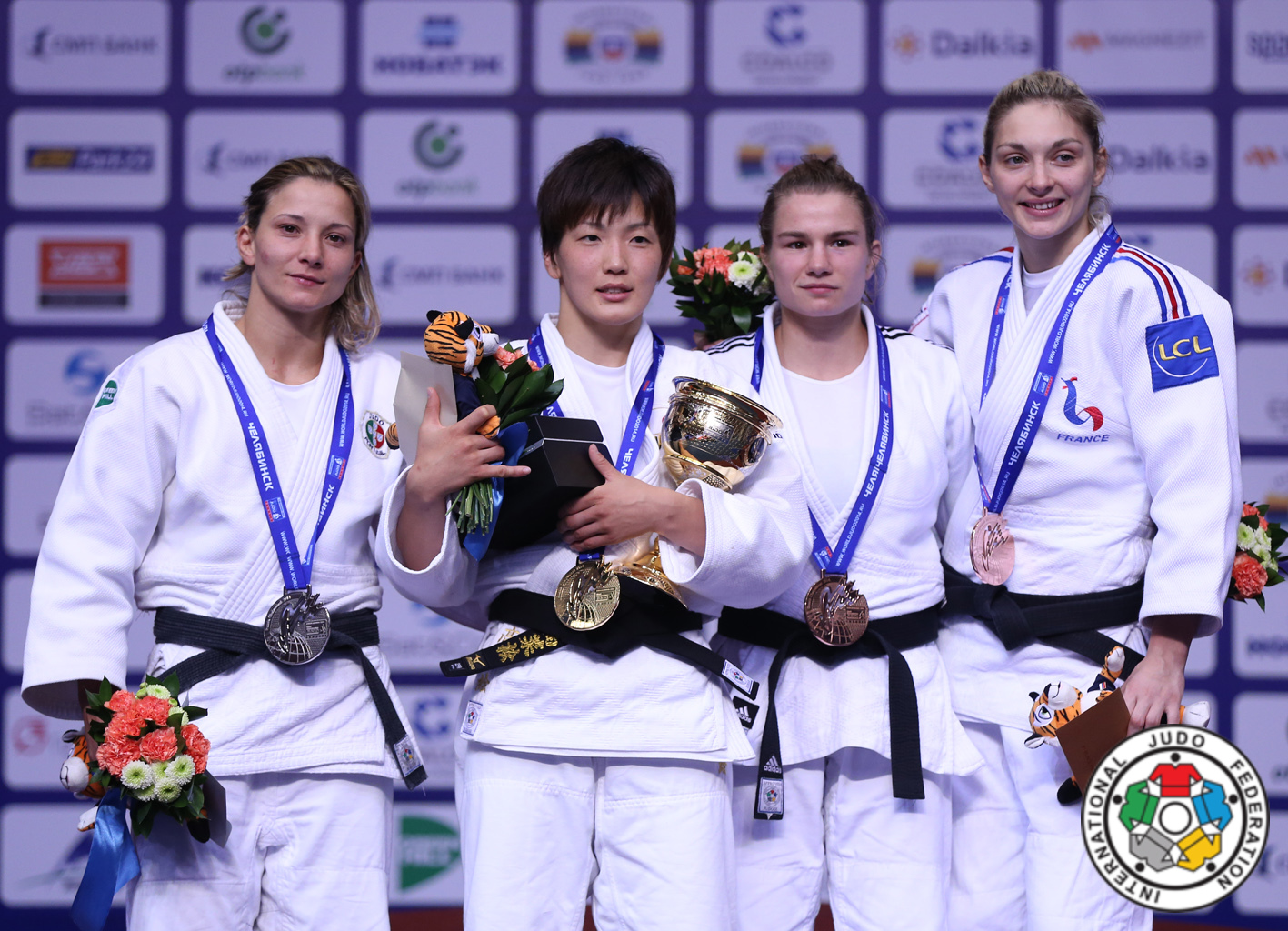 The gold medal match is evenly fought and goes into Golden Score. Udaka wins when during a sasae-tsuri-komi-goshi attack, Monteiro instinctively grabs Udaka's leg thus incurring a hansoku-make disqualification.
Portugal's Telma Monteiro looked to be in top form throwing her first opponent, Kazakhstan's Sevara Nishanbayeva, for ippon with drop ippon-seoi-nage. She threw her next opponent, USA's Malloy, in the opening seconds of their match, with a drop sode for yuko and then held on to the lead until the end of the match. Against Switzerland's Fabienne Kocher, she again relied on drop sode, first throwing her for waza-ari and then for ippon.
Pool A
The top seed for this pool was Germany's Miryam Roper but she bowed out early, losing her first match to Cuba's Aliuska Ojeda who countered her trademark kosoto to score ippon. The surprise victor for this pool was Japan's Nae Udaka who had to rely on penalties to win her first match, against Colombia's Yadinys Amaris. She also won her next match, against Cuba's Aliuska Ojeda, through penalties. Her first score of the day was against the Dutch player Sanne Verhagen, whom she threw with a big osoto-gari for ippon.
Pool B
In her first match, France's Automne Pavia dominated with her usual high grip and managed to throw China's Yan Liu with a very low koshi-guruma for waza-ari. She had a much harder time in her second match, against Poland's Arleta Podolak. Pavia opened the accounts with an uchimata which scored yuko. Podolak responded with an uchimata makikomi that scored waza-ari. Pavia then decided to pile on the penalties and she dominated Podolak to the extent the that Polish player eventually accumulated four shidos, and thus hansoku-make. Against the experienced Austrian fighter Sabrina Filzmoser, Pavia relied on ashi-waza, throwing her opponent first with kosoto-gari for waza-ari, then an osoto-kosoto combination for ippon.
Pool C
The top favorite in this pool was Brazil's Rafaela Silva but she was yet another favorite who failed to top her pool. Instead, it was the Mongolian Sumiya Dorjsuren who managed that feat. She made short work of her first opponent, Israel's Camila Minakawa, throwing her first with a seldom seen yoko-wakare for waza-ari, then a morote-seoi-nage for yuko and finally a drop ippon-seoi-nage for waza-ari-awasatte-ippon. She again used morote-seoi-nage to win her second fight, throwing Hungary's Hedvig Karakas for waza-ari. Her fight against Silva was a hard fought one. She scored first, using a rolling sleeve-grip seoi-nage to score waza-ari. Silva struck back with a kosoto-gari which also scored waza-ari. By the end of the match, Silva had one more shido than Dorjsuren so it was the Mongolian that got through to the semifinal.
Pool D
Japan's 2012 London Olympic Champion Kaori Matsumoto was not a top seed as she had not competed much this year but she was certainly the favorite. She didn't look too sharp in her first bout, against North Korea's Ri Hyo Sun and had to rely on penalty to win.
Things took a turn for the worse in her second bout, against USA's Marti Malloy, who footswept her and armlocked her into submission. Matsumoto's quest for gold was over.
Semifinals
In the first semifinal, Udaka scores early with an osoto-gari for yuko and holds on to that lead until the end. Although she racked two shidos, her yuko was worth more and she is through to the final.
In the second bronze medalMonteiro uses drop sode yet again and throws Dorjsuren for ippon to earn her a place in the final.
Bronze matches
A seoi-nage by Verhagen scores yuko against Dorjsuren and it was enough for her to win the bronze.
The match between Silva and Pavia was a tight one with each player scoring yuko each. Silva scores first with a counter while Pavia responds with an uchimata. In Golden Score, Pavia's aggressiveness causes Silva to get another penalty. Pavia gets her bronze.
Related judoka and events
Related Judo Photos
Related Judo Videos
Related Judo News