The latest Judo News offered by JudoInside.com
European Judo Championships Preview U100kg: Gasimov and Korrel still without title
JudoHeroes & IJF Media / Copyright: www.ijf.org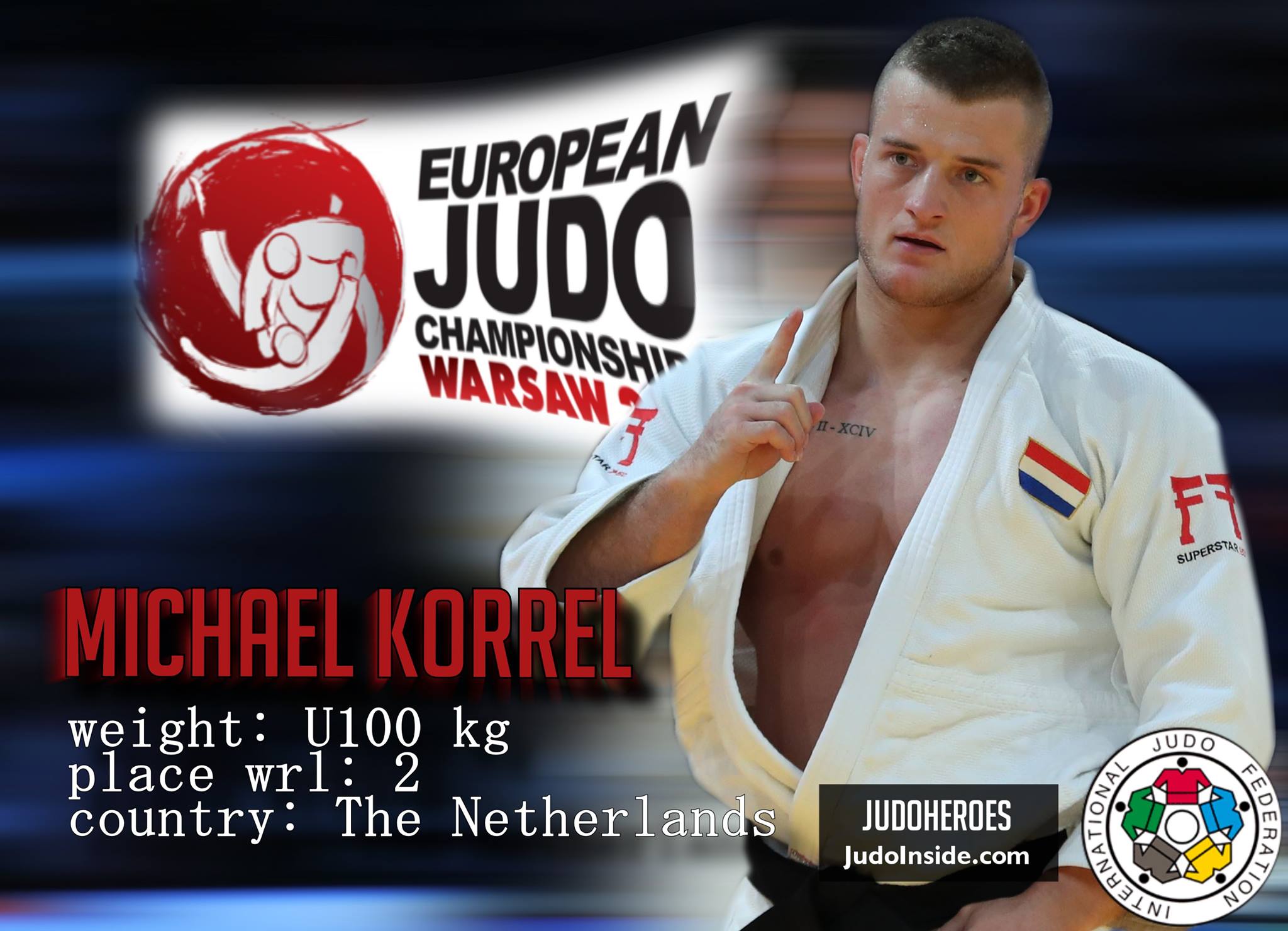 World number one Elmar Gasimov of Azerbaijan is one of the candidates to take over the European title of Henk Grol he doesn't compete in Warsaw. The European Championships will have a great category U100kg with some of the best players around.
Elmar Gasimov won silver at the Rio Olympic Games in 2016 and was seventh in 2012. Gasimov was previously number one at the IJF World Ranking with victories in Tyumen (2014) and Tbilisi and Samsun in 2015. He won over 15 World level medals. He won the World Masters in 2016 in Guadalajara. Gasimov won two European medals. He won silver at the Grand Slam in Baku in 2017 in the final against Michael Korrel
Dutchman Michael Korrel seemed to have an awesome shape in Baku when he bested Gasimov on condition in the final. The way up started with bronze at the Grand Slam in Paris and continued his way with European bronze last year. He won the Grand Prix in Budapest in 2016 and and Grand Prix silver in Zagreb in 2015 and 2016 and added bronze at the Grand Prix in Düsseldorf in 2017. He took three silver medals at European Junior Championships and U23 championships. Korrel won his first World Cup in Sofia in 2015 followed by Glasgow. He is triple Dutch champion and his goal for Warsaw is the final.. at least, which is complicated enough with many lefthanded judoka around.
The second European Olympic medallist in Rio who competes in Warsaw is Cyrille Maret of France. Maret won Olympic bronze in Rio in 2016. He won the Grand Slam of Paris from 2014-2016 and won three consecutive European medals but never gold. He was 2006 World Junior Champion. Maret won European Games gold with the team of France in 2015. He took silver at the Grand Slam in Tokyo in 2016. This year silver at the Grand Slam in Paris.
Another Azeri outsider is Elkhan Mammadov, still experienced enough to stand his man. But if he really comes to a medal is the question with many other rivals such as Toma Nikiforov and Martin Pacek or perhaps Varlam Liparteliani who won eight European medals including three titles. He is a medal hunter and may suddenly block some of the seeded players as he didn't take enough points yet in this new category.
Elkhan Mammadov is the 2013 World Champion judo from Azerbaijan. He won the Grand Slam of Abu Dhabi in 2016. He won bronze at the 2010 World Championships U90kg and collected three European medals U90kg. He stepped up in 2012 and won the world title one year later as first judoka of his nation Azerbaijan. He won 24 World Cup medals saying something about his experience. This is the tool he will need against a huge opposition in this category.
Outside the top 8 seeded players enough dangerous opponents can be found. Outside Liparteliani, Kirill Denisov, both coming from U90kg, Fletcher, Paltchik, Cirjenics, Sviryd, Kumric, Frey, they can all surprise someone in the first rounds.
Seeded athletes
GASIMOV Elmar (AZE) 1. seed (1. place WRL)
KORREL Michael (NED) 2. seed (2. place WRL)
MARET Cyrille (FRA) 3. seed (3. place WRL)
MAMMADOV Elkhan (AZE) 4. seed (4. place WRL)
PACEK Martin (SWE) 5. seed (7. place WRL)
NIKIFOROV Toma (BEL) 6. seed (8. place WRL)
ZANKISHIEV Kazbek (RUS) 7. seed (17. place WRL)
FONSECA Jorge (POR) 8. seed (18. place WRL)
Related judoka and events
Related Judo Photos
Related Judo Videos
Related Judo News