The latest Judo News offered by JudoInside.com
Israelian judoka take unique 5 medals on one day
IJF Media Team / International Judo Federation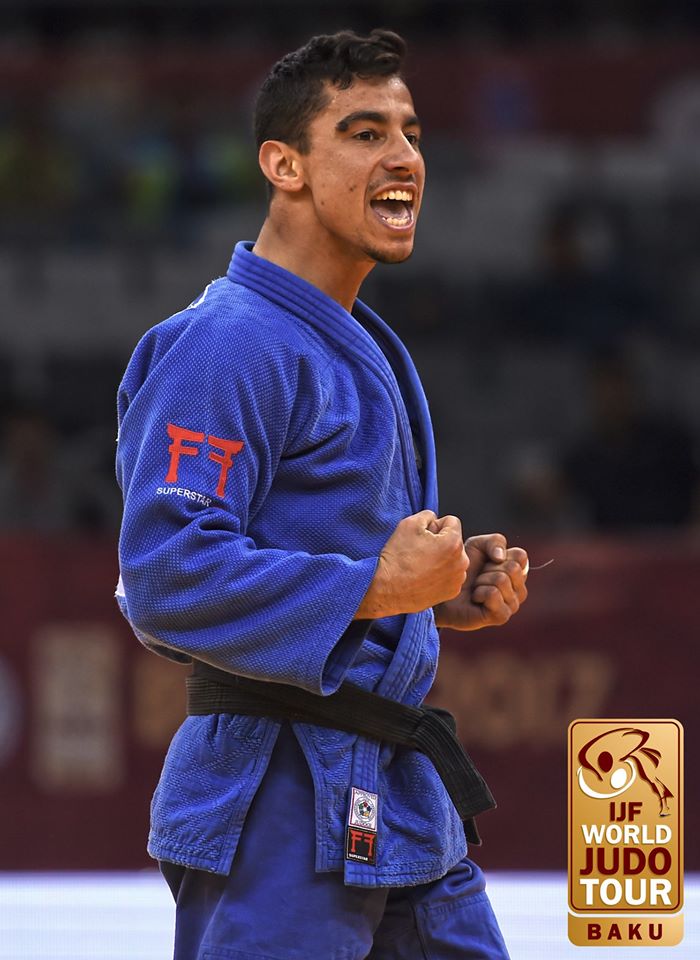 Israelian Tal Flicker is in a good shape and confirmed he form with his career best performance. Israel won five medals on the first day which is another boost for the country that took two Olympic medals and where judo is one of the top sports.
Flicker never won a Grand Slam medal but won the gold at this Grand Slam in Baku. In fact it was his first final in the World Tour and his opponent was Triple Tokyo Grand Slam winner Tomofumi Takajo. But in Baku it was Flicker who was the strongest among the 16 men. Quite a surprise and Takajo couldn't impress Flicker who kept calm and it was Takajo who made a second mistake in the golden score and left the gold to Flicker. This year he won the Euro Open in Lisbon and won bronze at the Grand Prix in Dusseldorf, but this is his career best performance. Takajo's semi final against Azeri favourite Nijat Shikhalizada was a tough battle but he bested Shikhalizada in the golden score. With his 1000 points Flicker moves up to the top three of the world behind An and Abe.
Another Israelian Baruch Shmailov took the bronze against Shikhalizada who chased up the Israelian but couldn't score in an attractive match. Georgian Lasha Giunashvili took bronze against Denis Vieru (MDA).
Brazilian Stefannie Arissa Koyama became the surprising winner of the women's U48kg division. Brazil's new lightweight was a judoka for Japan last year and was the number three of Japan and East Asian champion. Koyama's win though is considered early and with her 1000 points she is directly catapulted into the top 20. Last week she lost to Darya Bilodid (UKR) in Prague who was the final winner, today Koyama bested Milica Nikolic in the final with two scores. Tatiana Cesar, previously Lima was defeated in the semi final and Olympic number seven Maryna Chernyak (UKR) was defeated as well. Israelian judoka Noa Minsker and Shira Rishony took the bronze.
Toru Shishime won the category for men U60kg which will bring him close or in the top 10 of the World ranking for men as well. Shishime won all his four contests against mainly former Soviet state judoka from Azerbaijan, Kyrgystan, Kazakhstan and in the final Mukhriddin Tilovov of Uzbekistan. Today delivered SHishime 16 minutes of fights which may be a win as well for the 24-year old bronze medallist at the 2015 World Championships. Last year he won the Grand Slam of Paris and is double World Junior champion. Yanislav Gerchev of Bulgaria and Orkhan Safarov of Azerbaijan won the bronze both in a tough last fight.
The gold for women U52kg was captured by Romanian Larissa Florian. The taller Florian was clear in her ambitions and threw Pupp for wazari after eight seconds, but couldn't build out the scores. Pupp who develops well this year with silver in Oberwart takes another 700 points in Baku, but Florian moves up to the top 5 coming from 19. Florian defeated both 2012 Olympic medal winners Menezes and Van Snick. The 2012 Olympic champion U48kg Sarah Menezes still has to get used to her weight category. 21-Year old Anja Stangar snatched the bronze against Menezes. Charline van Snick, another medallist at the 2012 Games won the bronze as well, when she Gili Cohen of Israel had to tap out for an armlock. Cohen won the Grand Slam in Baku last year.
Lien Chen-Ling took the victory for women U57kg. It was the second World Tour victory for the Taipei woman who finished fifth at the Olympic Games in Rio and lost to her team mate and friend Kaori Matsumoto. Lien who has a scholarship in Japan was in a Grand Slam final in 2015 in Abu Dhabi but lost that one to Kim Jan-Di. In Baku Lien overcame Jovana Rogic of Serbia, but both women kept each-other in balance for a long time, but half a minute for the end she scored wazari. Rogic was in a final again for the first time since 2014 and with her 28 can be considered experienced in this field, but couldn't cash her experience with gold against Lien.
Julia Kowalczyk of Poland defeated Gilmara Prudencio for bronze with a beautiful executed o-uchi-gari but the Brazilian suffered a knee injury and was unlucky today. European bronze medallist Nelson Timna Levy of Israel won her first IJF World Tour medal in her career and Israels fifth medal on one day. Never Israel won five medals in one day. In January 2016 Israel won two gold medals in Havana. Five medals in a full tournament over 14 categories was the record so far in Zagreb's Grand Prix in September 2016, equal to Tbilisi's Grand Prix in 2014 where Gili Cohen captured a gold medal.
Related judoka and events
Related Judo Photos
Related Judo Videos
Related Judo News

Nils Ruhland (GER)
35 years
| Result | City | Date |
| --- | --- | --- |
| 1 | Budapest | 23 Oct |
| 2 | Düsseldorf | 21 Feb |
| 1 | Budapest | 2019 |
| 2 | Qingdao | 2019 |
| 1 | Osaka | 2019 |
| Result | City | Date |
| --- | --- | --- |
| 1 | Düsseldorf | 21 Feb |
| 2 | Osaka | 2019 |
| 1 | Tokyo | 2019 |
| 1 | Tokyo | 2019 |
| 1 | Hohhot | 2019 |