German Gold and Japanese ne-waza highlight first day in Düsseldorf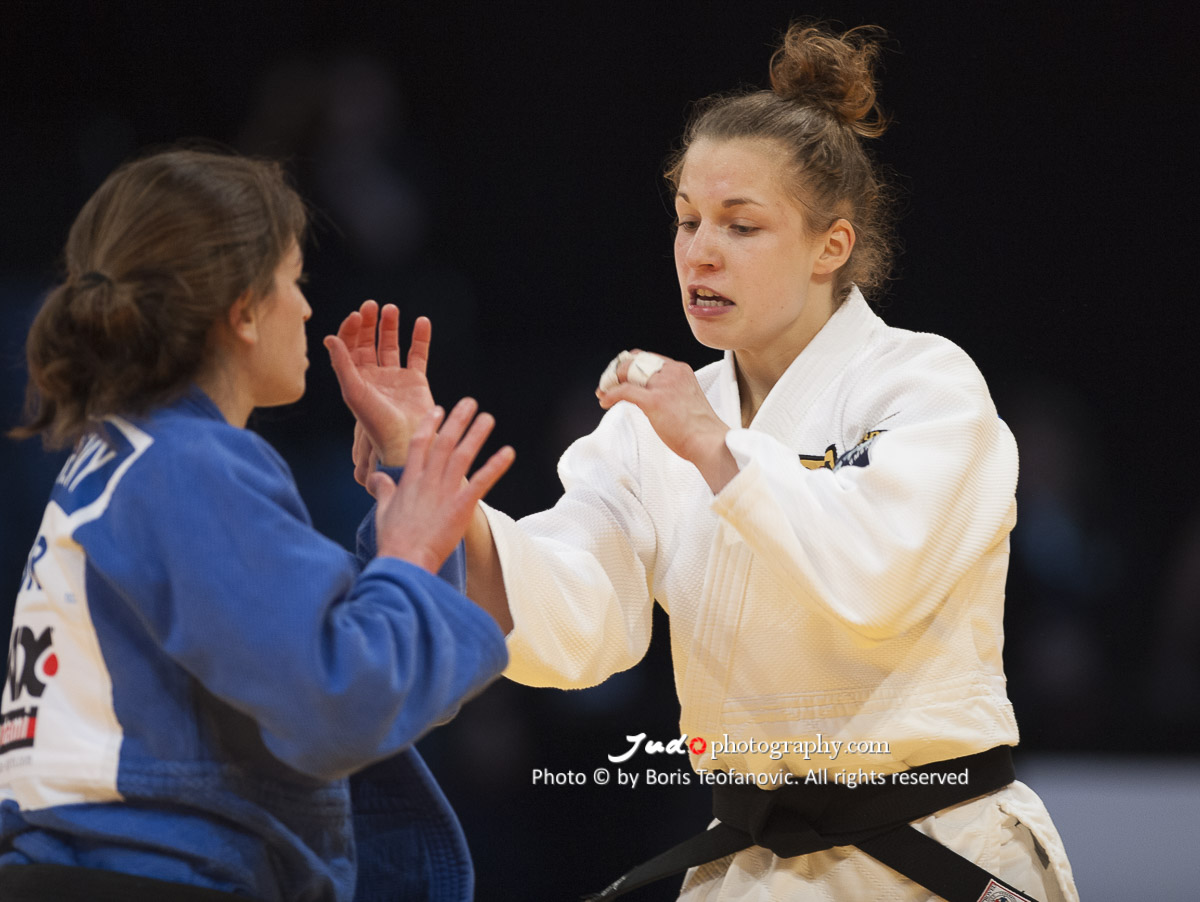 24 Feb 2017 18:55
by Anthony Peters
Boris Teofanovic
Finding familiarity with the new rules after debuting in Paris, judoka from five weight categories displayed high-level ne-waza and gutsy golden score victories on the first day of action at the Düsseldorf Grand Prix. Officials, too, seemed more comfortable and allowed players to determine the outcome of the match, especially in the overtime period.
In an exciting golden score final (women's U57kg), the German home crowd was treated to a terrific off-balancing counter by their own Theresa Stoll. The upset victory over Mongolia's Sumiya Dorjsuren found the emotional Stoll in the arms of her coach and acknowledging a boisterous crowd. Stoll is the youngest ever German gold winner in an IJF Tour event. Bronze medals at U57kg went to Rogic (SRB) and Udaka (JPN).
Japanese lightweight ne-waza was again on display, like in Paris, when Funa Tonkai (JPN) defeated France's Melanie Clement with osaekomi in the U48kg. Ai Shishimi likewise dispatched Cohen (ISR) in the first bronze matchup at U52kg. She nearly ended the bout with a very fluid uchi-mata, but was only awarded waza-ari. The second U52kg bronze medal, Florian (ROU) used a lightning-quick, mirroring ashi-waza counter to score ippon over Brazilian Valentim. In the gold medal bout, Ute Abe (JPN) used a low level uchi-mata to score waza-ari against Buchard (FRA). Abe, at just 16 years-old, became the youngest ever IJF Tour gold medal winner.
In contrast, very little newaza was needed in the men's U60kg. In the first bronze match, Dashdavaa (MGL) maintained poise and position throughout an early onslaught, anticipating much of McKenzie's (GBR) offense. In extra time, a sumi-gaeshi from Dashdavaa secured him bronze. Hearts in Düsseldorf skipped a beat in the second round of action when Phelipe Pelim (BRA) scored waza-ari with his favorite technique, osoto-gari, defeating Olympic silver medalist Yeldos Smetov (KAZ). He then advanced to the bronze medal match where, with just under two minutes remaining, both fighters received their second shido for passivity. Despite the pressure for Garrigos (ESP) and Pelim to pick up the offensive pace, two minutes of exciting golden score action concluded with Pelim earning a hard fought bronze.
In the U60kg gold medal bout, Ganbat (MGL) used strong sleeve control and a single waza-ari from a sumi-gaeshi counter to stop Georgian Papinashvili.
Another of the day's outstanding performances was that of Vazha Margvelashvili at U66kg. The Georgian commanded the entire tatami throughout the day, even scoring three unanswered waza-aris against Tal Flicker (ISR) in the semi-final. (Flicker bounced back in the final block for bronze). Norihito Isoda (JPN) took Margvelashvili into golden score, but it only took the Georgian 9 seconds to score and step to the top of the podium.