Polish victory for Piotr Kuczera gives confidence for European Championships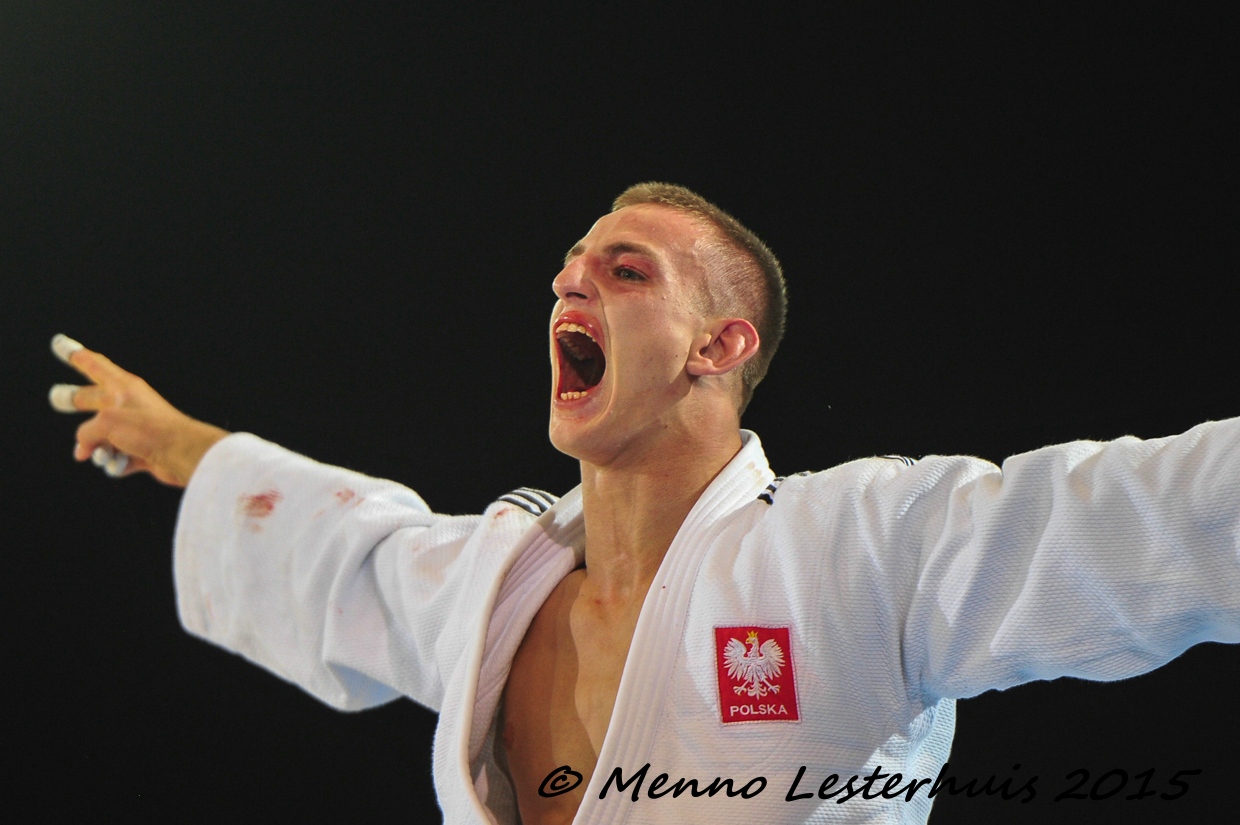 19 Feb 2017 16:40
Menno Lesterhuis
Four different nations captured the gold medals the second day in Rome. The opening matches in the final block of the European Open was the U81kg category, where Italy had greatest opportunity to medal, but both Matteo Marconcini, and earlier Antonio Esposito, lost.
Etienne Briand (CAN) defeated Marconcini by ippon with a seoi nage and Sotaro Fujiwara (JPN) bested Jakub Kubieniec (POL) for bronze. The final was between two Brazilians: 22 year-old former World Junior Champion Rafael Macedo and Yudi Eduardo Santos, who reached the semi final last week in Paris. It was Yudi Santos who caught the gold with an initially doubtful score, where Macedo had appeared to initiate the attack, but the right foot of Santos off-balanced Macedo and earned him the gold among 46 judoka in the class.
The final U90kg was the first international gold medal for Poland. Almost ten month after the last male victory of Szwarnowiecki in Samsun, Piotr Kuczera surprisingly won gold in Rome. The Polish fighter impressed the crowd and scored an ippon midway through the contest with a left-side maki komi against Tural Safguliyev of Azerbaijan. Kuczera won a total of five matches, including opponents Carollo (ITA), Russian Mikhail Igolnikov (in 25 seconds), and countryman Patryk Ciechomski by ippon. He also defeated World Champion DongHan Gwak. Gwak took the bronze after he lost his semi final to the Polish winner and defeated Japanese Shoichiro Mukai in the bronze contest in golden score. Zachary Burt took the bronze against countryman Lousi Krieber Gagnon in an all-Canadian bronze match.
Austria secured a second victory this weekend when Aaron Fara took gold U100kg against Johannes Frey (GER), the younger brother of Karl-Richard. Fara struck after two minutes for wazari with a left uchimata and finished the match after a turn-over when he rolled Frey into osaekomi.
Benjamin Fletcher of Great Britain claimed the bronze with a beautiful ko-uchi gaki. Israelian Peter Paltchik bested Vincenzo D' Arco of Italy, which was the last opportunity for Italy to take a medal on day two.
The heavyweight final was between Japan and Korea, just like in Oberwart. In Rome, Hyoga Ota couldn't convince with a score in regular time but in the golden score he quickly countered KyeongTae Kim with a small score, good enough for the gold. Ota was unseeded but defeated the number one seed Lurii Krakovetskii (KGZ).
There was a second medal in Rome for Austria when Stephan Hegyi launched a big ippon with a maki komi, similar to Fara's, but beautifully executed. Russian Tamerlan Bashaev defeated Hector Campos of Argentina in the second bronze medal bout.
Japan won three gold medals, followed by Brazil, Korea, Austria and Poland, all winning one title.