The latest Judo News offered by JudoInside.com
German judoka David Tekic has his lifestory on his body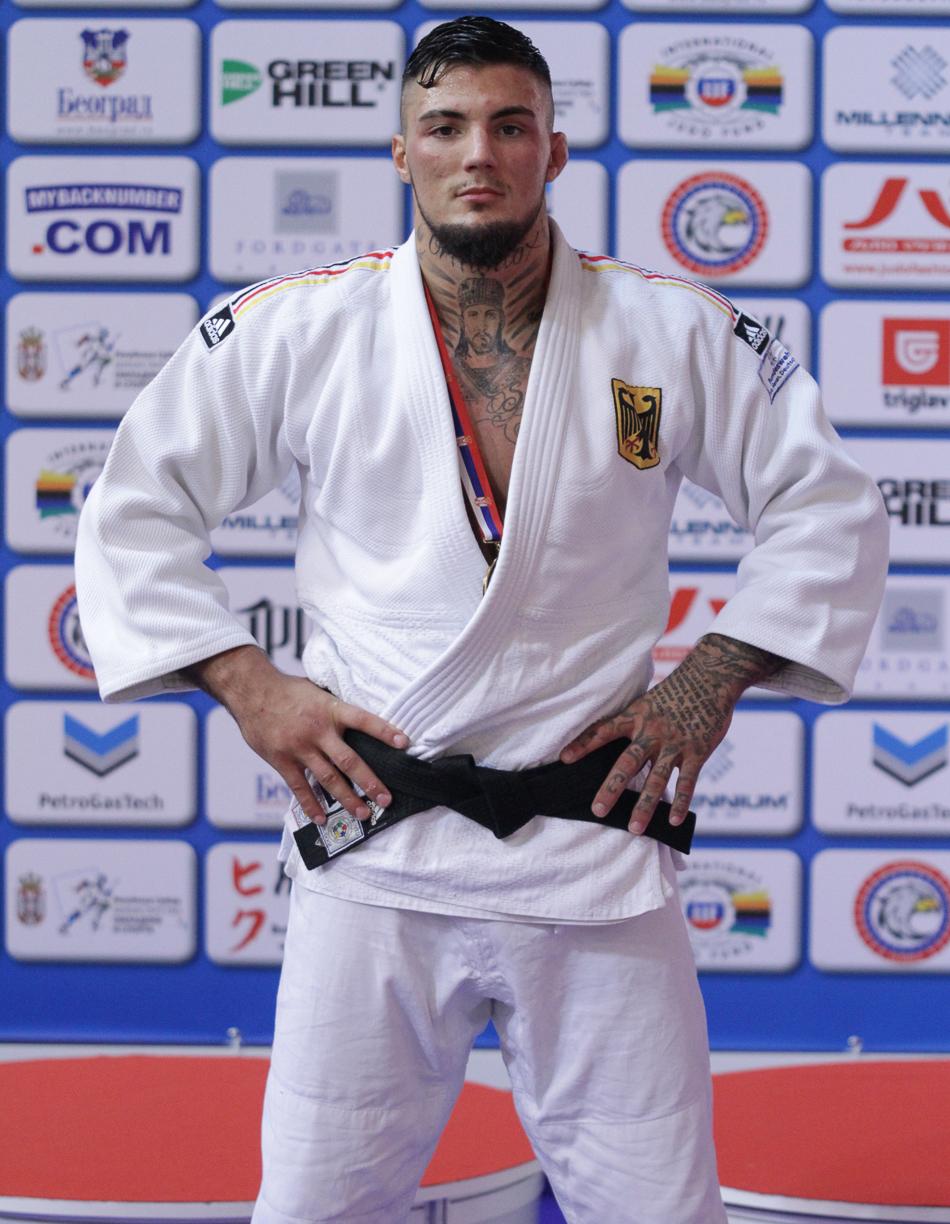 Some of the appealing newcomers in the senior division is Germany's David Tekic. Not just because he won the European Open this year in Madrid, took his first German title and added the European Cup of Belgrade last weekend. Tekic is a story on his own and the story is partially written on his body. David Tekic a.k.a. Tattoo David is a rich man, because he enjoys life as it is.
This weekend in Belgrade Tekic fought the final against Dmitry Gerasimenko of Serbia. Both made a thriller of a match, maybe not hugely attractive as there were no scores in the first five minutes Within a minute in the golden score David Tekic showed his skills and threw the Serbian for ippon. Tekic received the applause of the homecrowd who understand his Serbian name.
The German from Hannover studies in Serbia and goes to Serbia four times a year, sometimes even two months to study and train with Red Star in Belgrade. So he felt good in his second hometown. Tekic didn't get it for free, he had to win six contests but the German Champion impressed with good scores. The transition from a junior to senior seems to go well. "I won the European Open in Madrid, now this one, so things look okay, I have to win another European Open to get a Grand Prix, perhaps next year. So I cannot promise to be back at the European Open in Belgrade, but I sure have a good feeling here. I was born in Novisad, I have two Serbian parents and my father Slavko Tekic is my coach, he used to fight in the German Bundesliga we moved due to the war to Germany as he had many contacts there. Now I live in Hannover and I study Sports science and physiology. So every now and then I come to Belgrade and I train at Judo Club Red Star."
Tekic, has a small sister of four who was also at the European Cup. She also "studies" Serbian language, Tekic smiles. But afterall, the German anthem was played and was proud to represent his country. Serbia now have Kukolj and Nemanja Majdov show started his campaign U90kg in Zagreb. So no consideration for Tekic to switch to Serbia. He can be the top man in Germany facing the competition of Mark Odenthal (1991) and Aaron Hildebrand (1990). Tekic (1995) is the coming man. "I don't have guarantees yet to start at the European U23 in Tel Aviv, but things look good now."
Tekic is known for his tattoos all over his body. "It represents freedom. I was taught that Freedom is precious and it represents the stories in my life, when someone dies, or special stories that I care off."
Watch the profile of David and also our special Judo Tattoo page where David is shining with a few other characteristic judokas.
Related judoka and events
Related Judo Photos
Related Judo Videos
Related Judo News

Katja Stiebeling (GER)
25 years
| Result | City | Date |
| --- | --- | --- |
| 1 | Düsseldorf | 2020 |
| 2 | Osaka | 2019 |
| 1 | Tokyo | 2019 |
| 1 | Tokyo | 2019 |
| 1 | Hohhot | 2019 |
| Result | City | Date |
| --- | --- | --- |
| 1 | Düsseldorf | 2020 |
| 1 | Osaka | 2019 |
| 1 | Tokyo | 2019 |
| 3 | Tokyo | 2019 |
| 2 | Fukuoka | 2019 |