The latest Judo News offered by JudoInside.com
Rio2016 Olympic Judo Preview women U57kg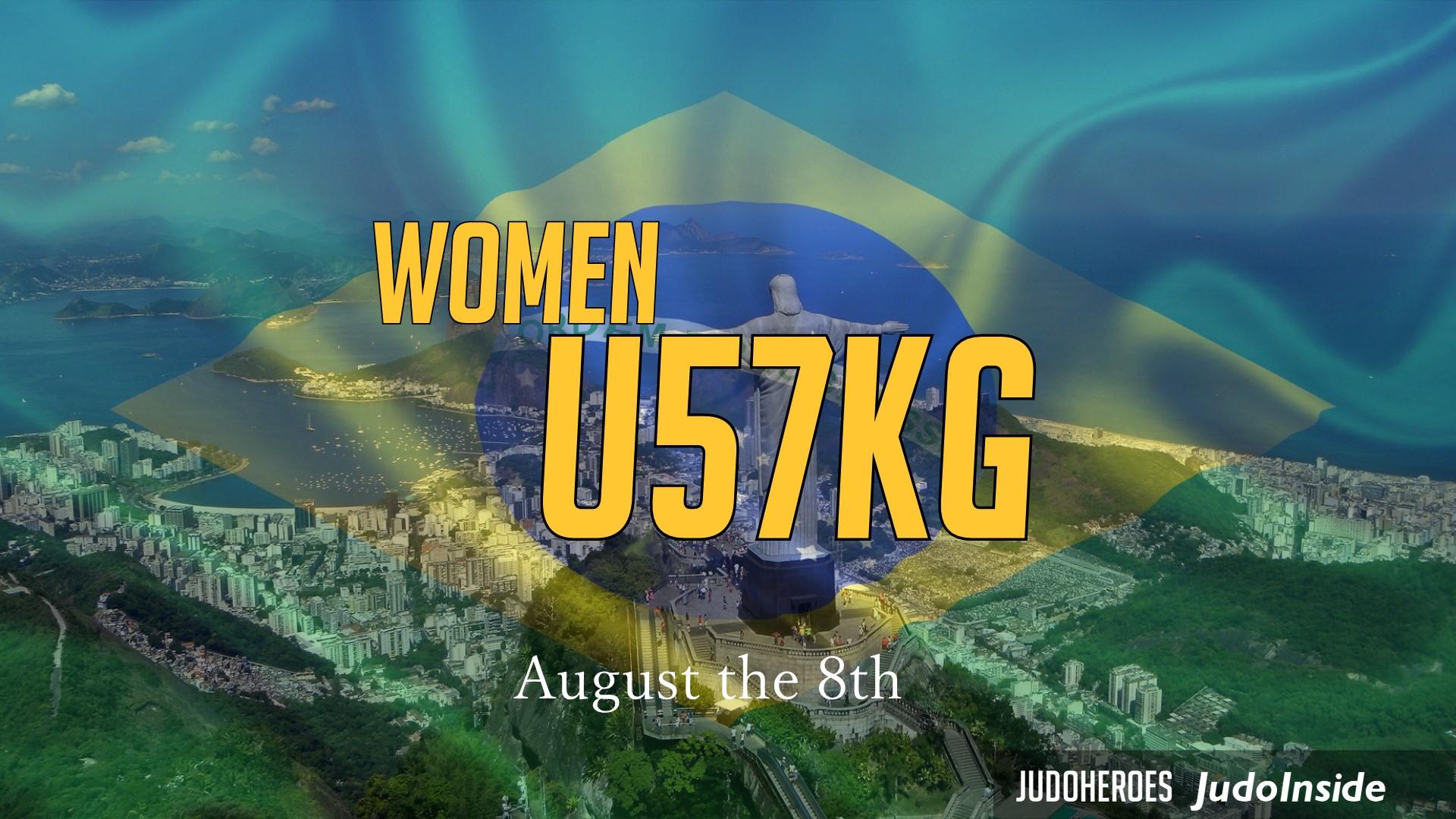 The U57kg category is an amazing event with many outsiders for the medals. Matsumoto has proved to be strong as the current Olympic and World title holder, but has many enemies for gold, some of who are even her friends. On a day full of emotions, the one who stays cool may be the next Olympic champion on 8 August.
World number one Sumiya Dorjsuren from Mongolia won bronze at last year's World Championships in Astana. Dorjsuren won a medal at the Asian Championships and has claimed 9 World Cup victories. Her victories include gold in Tbilisi, Qingdao and Tokyo in 2015. She has also won the IJF World Masters three times in a row including this year's edition. She has beaten many of the favourites including World Champion Matsumoto.
Dorjsuren may be in the same pool as Telma Monteiro of Portugal. Monteiro is a five-time European Champion and four-time vice World Champion in 2007, 2009, 2010 and 2014. One medal is missing for the Portuguese judoka, apart from the World title. Monteiro has won 5 World medals and 11 European medals and the Grand Slam in Paris in 2012 and 2015. She has an amazing list of honours, and alongside Sabrina Filzmoser is the most experienced in the field, but can she make it in Rio with this strong opposition?
Kaori Matsumoto is the beast of Japan! The Olympic Champion in 2012 and 2010 World Champion in Tokyo as well as in 2015 in Astana, she also won World bronze in 2011. Matsumoto won the Asian Games in 2010 and Grand Prix Dusseldorf in 2014 and 2016. In 2015 she won the Euro Open in Oberwart and is All-Japan champion, which is almost a World title on its own. Can she use her spirit to charge the battery for immortality in Japan?
Automne Pavia has been Matsumoto's opponent a few times and both are paired as the world's ranked 4 and 5 of the world. Pavia is 2012 Olympic bronze medallist and won bronze at the 2014 and 2015 World Championships. The French judoka won three European titles in 2013, 2014 and 2016. Pavia won 5 European medals in a row from 2012-2016. She is engaged to U60kg fighter Ashley McKenzie. She won silver at the Grand Prix in Samsun, but her European title was the decision-making performance for her qualification.
Korean Kim Jan-Di won the Grand Slam Paris in 2016. In 2015 she won the Grand Prix Tashkent and Jeju and the Grand Slam Abu Dhabi. Kim Jan-Di won her first World Cup in 2010 in Ulaanbaatar. In 2011 she won the IJF Grand Prix in Qingdao and Taipei Open in 2015. Kim has won 4 Asian Championships medals.
American Marti Malloy won Olympic bronze at London 2012. She was 2011 runner-up of the World Championships and 5th in 2015. She won gold at the Grand Prix Havana in 2016 and bronze at the Grand Slam Paris. She is also Pan American Champion in Toronto in 2015. 'Martidamus' studied journalism and grew up with teammate Ronda Rousey. Malloy is the 'Martian', and also called 'Titanium Malloy'.
Corina Caprioriu of Romania was the finalist of the 2012 Olympic Games in London. She won silver at the 2015 World Championships in Astana and bronze in 2011 in Paris. Caprioriu was European Champion in 2010 and won bronze in 2011. She has booked multiple World Cup titles since 2010, and was the number one in the World Rankings in 2015.
Canadian Catherine Beauchemin-Pinard won World Junior silver in 2013 and bronze in 2014. At the senior 2015 World Championships, she ranked fifth. Beauchemin-Pinard won Pan Am bronze in 2015 and Pan American Games silver in 2015. She has won IJF events such as the Grand Prix Ulaanbaatar and Grand Slam Tyumen in 2014.
Outsiders
Hedvig Karakas is one of the finest Hungarian judokas. She won bronze at the Grand Slam Tokyo in 2015. As Junior World Champion, Karakas won bronze at the 2009 World Championships and was seventh at the 2015 World Championships. She was also fifth at the Olympic Games in London and had won European Games silver in 2015.
Taipei's Chen-Ling Lien won the World Cup in Korea in 2011, but it took a while before she got her breakthrough. In 2015 she won in Prague and took gold at the Grand Prix Budapest. She is the most familiar judoka from Taipei but has Japanese roots. She won various medals at Asian Championships and Asiad. She has also defeated Matsumoto this year.
German Miryam Roper won World bronze in 2013 in Rio and captured three European medals including a final in 2014, and European Games bronze in 2015. She won various international IJF events in Baku, Moscow, Rijeka, Abu Dhabi and Qingdao and has over 10 IJF World Tour medals. Roper is experienced and as a woman of the world, she speaks various languages, making her a true communicator.
Brazilian Rafaela Silva became World Champion in 2013 in Rio de Janeiro. In 2011 she won World silver. She won gold at the Grand Prix in Tbilisi in 2016. Silva won the Junior world title in 2008. Born in the Rio favelas and is a representation of the Brazilian sports dream. She helps with Flavio Canto's project. As she is not seeded in Rio, some of the hotshots will have to move for Silva. The crowd will go nuts when she fights on the tatami as a role model for so many Brazilians in poverty.
Seeded athletes paired
Dorjsuren with Monteiro
Matsumoto with Pavia (Davis/Filzmoser)
Kim (Roper/Silva) with Beauchemin-Pinard (Karakas)
Malloy (Podolak) with Caprioriu (Gjakova)
Former Olympic Champions
| | | |
| --- | --- | --- |
| Year | Judoka | Edition |
| 2012 | Kaori Matsumoto (JPN) | London |
| 2008 | Giulia Quintavalle (ITA) | Beijing |
| 2004 | Yvonne Boenisch (GER) | Athens |
| 2000 | Isabel Fernández (ESP) | Sydney |
Stat
The U57kg category is filled with athletes who had some of the best performances in the Olympic Qualification events. Five women even won more than 25 World Cup medals including 10 or more victories. Telma Monteiro won the most World Cups and most World Cup medals. She is 30 years but is still determined to win. Sabrina Filzmoser is also experienced with her 36 years of judo and 36 World Cup medals. Corina Caprioriu, Hedvig Karakas and Sumiya Dorjsuren also collected 25 or more World Cup medals. Telma Monteiro also won the most different medals in the form of World and European medals in both junior and senior categories. However, without a doubt, Kaori Matsumoto has the most impressive list of honours as she is the only one in this division with both an Olympic and two World titles. Only Rafaela Silva won a World title in 2016 among participants in U57kg. Of all athletes in Rio, only Kayla Harrison has won more World Cup medals, 42, including 25 victories.
Related judoka and events
Related Judo Photos
Related Judo Videos
Related Judo News

Naohisa Takato (JPN)
27 years
| Result | City | Date |
| --- | --- | --- |
| 1 | Brasilia | 2019 |
| 1 | Montreal | 2019 |
| 1 | Marrakech | 2017 |
| 1 | Zagreb | 2017 |
| 3 | Budapest | 2017 |
| Result | City | Date |
| --- | --- | --- |
| 1 | Budapest | 2019 |
| 2 | Qingdao | 2019 |
| 3 | Brasilia | 2019 |
| 1 | Tokyo | 2019 |
| 3 | Montreal | 2019 |