The latest Judo News offered by JudoInside.com
Rio2016 Olympic Judo Preview women U52kg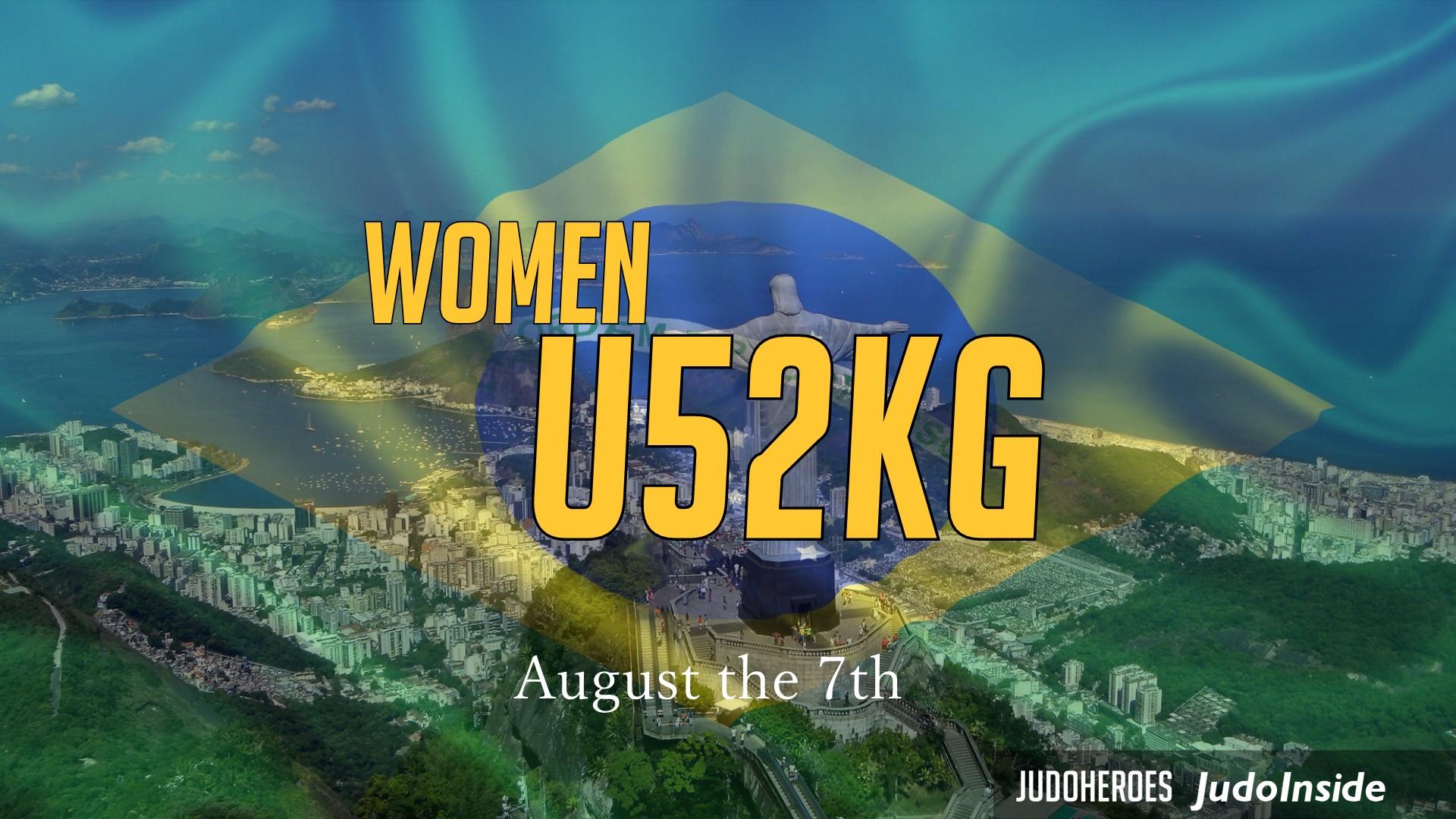 The whole of Kosovo is looking forward to 7 August, the day that Majlinda Kelmendi may win the first ever Olympic medal for the newest country in the IOC. The previous edition was won by An Kum-Ae, who surprisingly won this category which Kelmendi also participated in.
Previously the U52kg was looked upon as a boring category, but since the Olympic Games, the division got a boost with new youngsters mixed with experienced judokas. Slowly the rookies took over this category with Kelmendi as the frontrunner.
Majlinda Kelmendi is the best ambassador of Kosovo. Kelmendi was World Champion in 2013 and 2014, and 2014 European Champion. She is the double winner of the Grand Slam Paris in 2015 and 2016. Kelmendi has always been coached by Driton Kuka. She is the flagbearer for Kosovo in Rio and the number one favourite to take the title to wipe out the early loss in London in 2012. Since then Kelmendi dominated her category, despite an injury.
However, Romanian Andreea Chitu also did extremely well in this cycle. Chitu won World silver in 2014 and 2015. She is European Champion in 2012 and European Games winner in 2015. She has won 3 World Championships medals and was European U23 Champ in 2010. In 2015 she reached the number one position in the IJF World Ranking. She has been prepared for success by coach Florin Bercean for years.
Misato Nakamura is triple World Champion. She won in 2015 in Astana, 2011 in Paris and 2009 in Rotterdam, and won silver in 2010. Nakamura is the 2008 Olympic bronze medallist in Beijing. She is the only judoka who has won Grand Slams in 5 different cities. She won the Masters in 2016 in Guadalajara and is perhaps the biggest rival for Kelmendi.
Brazilian Erika Miranda is highly successful in the half-lightweight category. She won three World Championships medals in 2015 (bronze), 2014 (bronze) and 2013 (silver). She won 3 Pan American Championships in 2012, 2014 and 2015, and participated in the London Olympic Games. Coached by Rosicleia Campos, Miranda managed to win three consecutive World Championships medals to become one of the favourites for Rio. This ensures that Miranda has stability.
Chinese Ma Yingnan won her first Grand Prix in Qingdao in 2012. She finished 5th at the 2014 World Championships but in 2015 she won four events in a row in Oberwart, Grand Prix Dusseldorf, Prague and the Asian Championships in Kuwait. She also won silver at the Grand Slam Tyumen 2015 and Grand Slam Baku 2016.
Odette Giuffrida was fifth at the 2015 World Championships in Astana. She won gold at the Grand Prix in Tbilisi in 2016. The Italian judoka U52kg won various European youth titles and in 2013 European Senior bronze. World Cadet silver in 2009 and World Junior bronze in 2013. Grand Slam Baku Silver.
Natalia Kuziutina is triple European Champion who has won 6 European medals. Kuziutina won two World medals in 2010 and 2014. She was seventh in 2015 in Astana. Kuziutina was also European U20 and U23 champion. She was also European team champion with Russia in 2009 and 2012. She won the IJF World Masters in 2015. Given her good preparation over the last year and strong training efforts, she seems capable of being back at the top.
Gili Cohen of Israel won European silver at the U23 in 2013. She took bronze at the European Championships in Montpellier in 2014. She also won World Cup medals in more than 10 different cities including the Grand Slam Baku in 2016, and bronze at the Grand Prix Samsun in 2016.
Outsiders
French Priscilla Gneto won bronze at the 2012 London Olympics. She was bronze medalist at the Junior World Championships in 2010 in Agadir. She was also European Open Team Champion in Istanbul in 2011 with France. Gneto won bronze at the Grand Slam Paris and Abu Dhabi, and Grand Prix Düsseldorf in 2016. She was chosen over the successful Euranie, so her Olympic experience should help her to get another medal, although her competition is severe.
German judoka Mareen Kraeh won three European bronze medals and World bronze in 2013. She won World and European medals with the German team. Kraeh won more than 10 IJF medals at Grand Slams, including Grand Prix gold in Rijeka, Budapest and Havana in 2016. The age difference is big in this category and Kraeh is among the oldest, but most experienced fighters.
Seeded athletes paired
Chitu (Gomez) with Giuffrida (Kraeh)
Miranda with Ma
Kelmendi (Gneto) with Cohen
Namakura with Kuziutina
Former Olympic Champions
| | | |
| --- | --- | --- |
| Year | Judoka | Edition |
| 2012 | An Kum-Ae (PRK) | London |
| 2008 | Dongmei Xian (CHN) | Beijing |
| 2004 | Dongmei Xian (CHN) | Athens |
| 2000 | Legna Verdecia (CUB) | Sydney |
| 1996 | Marie-Claire Restoux (FRA) | Atlanta |
| 1992 | Almudena Muñoz (ESP) | Barcelona |
| 1988 | Sharon Rendle (GBR) | Seoul |
Stat:
Majlinda Kelmendi the top earner in the IJF Tour. In October 2012, the new Olympic cycle started with the Grand Prix of Abu Dhabi, known for its generous prize money, as they paid out Grand Slam prize money despite being a Grand Prix. The event was soon upgraded. Kelmendi won the most prize money on the IJF Tour, excluding bonuses for the IJF Prestige Ranking. Of her earnings, 20% belongs to her coach. The $62,500 is a start, but in the next World Championships the prize money will be raised to a total of one million dollars, 5 victories more than the current awarding. Teddy Riner at 18. With $41,000.
Related judoka and events
Related Judo Photos
Related Judo Videos
Related Judo News

Jose Luis Arroyo Osorno (PER)
24 years
| Result | City | Date |
| --- | --- | --- |
| 1 | Paris | 8 Feb |
| 1 | Qingdao | 2019 |
| 2 | Osaka | 2019 |
| 3 | Brasilia | 2019 |
| 1 | Tokyo | 2019 |
| Result | City | Date |
| --- | --- | --- |
| 5 | Paris | 8 Feb |
| 3 | Qingdao | 2019 |
| 1 | Osaka | 2019 |
| 2 | Chiba | 2019 |
| 5 | Budapest | 2019 |