The latest Judo News offered by JudoInside.com
Report of the Junior World Championships 2000 in Nabeul Day 2
TWOJ, the world of Judo, by Matt Carter JudoInside.com / judo news, results and photos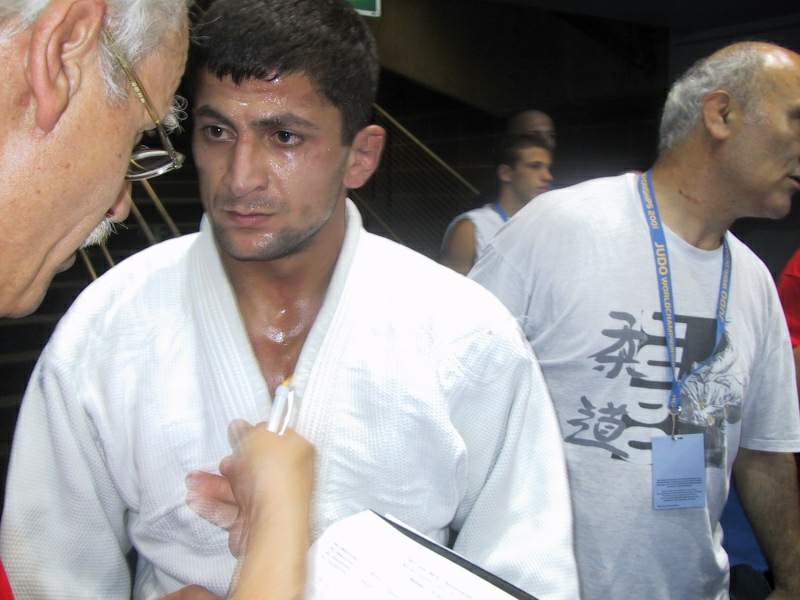 Four different countries picked up gold medals on the second day of competition at the 2000 HYUNDAI Junior World Judo Championships, bringing the national anthem count to seven as we hit the half way mark of the tournament. Gold medals went to Cuba (-57kg), France (-63kg), Georgia (-90kg) and Germany (-100kg). Perennial favourites Japan, who has picked up more medals than any other nation with three silvers and three bronzes, has yet to take a gold.
-57kg
Coba Lupetey of Cuba dominated the women's -57kg category which featured 32 judoka. In the final, Lupetey fought Japan's Reiko Yoshinaru, beating her by a yuko scored on a drop Seoi-nage early on in the match. Lupetey left the mat looking very composed and sure of herself and promises to be a force to watch out for in the future. Prior to her gold medal win, she secured her spot in the semi-finals with a string of ippon victories starting with Onana Malachowska (POL) and followed by Iouliet Gorgoli (GRE) and Valeri Degrijse (BEL). In the semi-final, Lapetey faced Sophie Cox of Great Britain. Cox, who ended up finishing 5th overall, gave the Cuban her toughest opposition on the day in a hard fought match that finished had to go to a decision after 4 minutes. Cox came out quickly and looked as though she would take the fight to the Cuban, but Lapetey made some key attacks in the dying seconds to win the judges favour and justify her win by a unanimous decision. Cox went on to fight Yuhua Xu of China in the bronze medal match, but was caught with a counter and thrown for ippon to shatter her medal hopes. She said afterwards that these championships had been "a great experience" and that she wanted to thank everybody for their support. In the other bronze medal match up, Gasimov Kifayat of Azerbaijan went up against Tatia Chouchakova of Russia. Kifayat, who was in fine form all day, made short work of the Russian, throwing her within 38 seconds for the win.

-63kg
The -63kg category, which was smaller then the -57kg class with only 24 competitors, looked like in might produce Japan's first gold of the tournament in the form of the compact Ayumi Tanimoto. The cagey Tanimoto bobbed up and down and threw her first opponent Urska Zolnir of Slovenia with a very Koga-like Sode-tsuri-komi-goshi before holding her down with Kuzure-yoko-shiho-gatame for the double waza-ari win. She then beat Jill Sanders (NED) with a powerful Ippon-seoi-nage to advance to the finals against Lucie Decosse of France. She met her match against Decosse however, and was thrown decisively by the taller French player in only 15 seconds. Decosse fought her way to the final by disposing of Claudia Heill (AUT), Ga Young Park (KOR) and Yoko Shinomiya (SUI).
The two bronze medals were won with lightning speed as Heill of Austria fought through the repechage to win a well deserved bronze against Sanders (NED) scoring ippon in just 42 seconds with a right handed O-soto-gari. Sanders, whose only loss of the tournament came at the hands of gold medallist Decosse (FRA), said later that she was looking forward to getting her own back against Decosse at next year's Junior Europeans in Cyprus. The other bronze medal went to Sarr Hernandez (CUB) who beat the Swiss fighter, Shinomiya in mere seconds with a classic Uchi-mata right off of her first grip.

-90kg
The -90kg category was the largest of the day with 35 players and included some incredible excitement as well as a little controversy. It started off with Hiroshi Izumi of Japan being disqualified for continuing a potentially dangerous arm lock against Ivar Berends of the Netherlands. The match was a close one and the Dutchman was having some trouble with the much shorter and stockier Japanese, who kept his centre of gravity low to avoid being thrown despite numerous Uchi-mata attempts from Berends. But with 36 seconds remaining, Izumi caught Berends with an O-soto-gari to score a yuko, he then continued into ground work and tried to put on Juji-gatame. After continuing to work on the arm once matte was called, Izumi received hansokumake and was disqualified. Berends went on to win his next two matches against Mikalia Shkred (BLR) and Xiangcai Zhu of China before meeting a determined Peter Cousins (GBR) in the semi-finals. Cousins was having a super day and had beaten both Aljaz Artac (SLO) and Amel Mekic (GRE), each with a beautifully executed drop Seoi-nage. In the quarter-finals the exciting British fighter met a tough Korean, In Ho Kang, and despite outgripping him for most of the match had to settle for a narrow win thanks to a shido Kang had received earlier in the fight for passivity.

The final was full of excitement as Cousins prepared to take on Zurab Zviadauri of Geogia. Zviadauri had earlier scored what many were calling the "throw of the day" against Kalen Kachur (CAN). The Canadian, who had already thrown an American and a Venezuelan for ippon, looked strong coming into his duel with Zviadauri. However, when Kachur came in for a right-sided Uchi-mata, the Geogian blocked him with his hips, picked him up and threw him with a huge Utsuri-goshi for the victory. He then proceeded to beat Daniel Hadfi of Hungary to set up the big final against Cousins. The final was the first meeting between the two dynamic players and began with Cousins coming out cautiously against the Georgian, as both men sized each other up. But at the 30 second mark Cousins dropped under Zviadauri with a quick Seoi-nage that just failed to score. He wouldn't be denied again, and attacked seconds later with another Seoi-nage that scored him a yuko. The Georgian replied a minute later with a score of his own that gave him a koka. At this point, Cousins became somewhat defensive and a shido was given to him. He responded by trying Kata-guruma in an attempt to shake things up a bit, but without success. Still, the British fighter looked to be in control and on his way to a Junior World title, but with 39 seconds to go, Zviadauri scored a yuko of his own to take the lead with a yuko and two koka scores to Cousins' single yuko. Then, with only 8 seconds left, Zviadauri also received a shido for being too defensive, putting the match within a koka of a decision. Unfortunately for Cousins, time was not on his side and the day belonged to the Georgian. Arguably, Cousins' first score could have been called a waza-ari and indeed one corner judge did indicate that he thought it was worth the higher score. British coach, Neil Eckersley called the result "devastating," but added that Peter Cousins would be back "4 years from now on the podium in Athens (site of the 2004 Olympic Games)." Peter himself echoed these sentiments later at a press conference saying confidently, "You'll hear the anthem in Athens." In the meantime, Peter's next challenge is the Junior European Championships in Cyprus next year where he hopes to vindicate his loss to Zurab Zviadauri. Peter's twin brother Thomas will be in action tomorrow in the -81kg category.
Bronze medals were awarded to Daniel Hadfi (HUN) who defeated Amel Mekic in ne-waza and Alessand Merly of Brazil who beat Thierry Fabre (NED) with a foot sweep.

-100kg
The crowd was expecting big things from Germany's Pille Thomas in the light heavyweight final and he delivered, coming out strongly in his fight against a slightly stoic looking Masanori Hongo of Japan. After receiving a shido and then a chui for his lack of aggressiveness, Hongo picked it up a gear only to be countered by Thomas who scored a yuko on the throw. The Japanese appeared to injure his leg slightly on the throw, but quickly bounced back showing no ill effects. However, he could not muster enough reserves to out score the German, who held on to his lead to claim gold. As the buzzer sounded, Thomas raised his fists in the air in triumph, giving the defeated Japanese a slight push to assert his superiority as he stood up. Thomas had looked impressive all day and showed true fighting spirit with a dramatic come from behind quarter-final win over Eslam Chahabi (EGY) by scoring a huge waza-ari with only 4 seconds to spare. Earlier in the day he had beaten Dasta Primkulov (KAZ) and Sofien Chebbi of Tunisia. In the semi-finals, Thomas faced Abdull Tangriev (UZB) and threw him with a super O-goshi to score waza-ari within the first 20 seconds; he then followed this effort up with a swift Tani-otoshi to earn a yuko. As the pace slowed in the final two minutes, it looked as though the German would stay on top, but the tide suddenly changed as Tangriev threw for a waza-ari of his own with only 25 seconds remaining. Pille gave his all by holding on to his earlier yuko to carry him through to the final.

Hongo made his way into the final by pulling out wins against Richard Esparza (USA), Sabastien Godin (CAN), Dionisis Iliadis (GRE) and Jean Vanbever of France. Hongo, who didn't look particularly dominant in any of his fights, always seemed to get the big throws in when he needed them most. He scored ippon with an excellent Harai-goshi against Godin of Canada and scored with a textbook Tai-otoshi against Iliadis, who had previously scored a waza-ari with a lovely Hiza-guruma that the Greek coach insisted should have been ippon. He then narrowly defeated Vanbever of France in the semi-finals with a yuko score. In the semi-finals, the Frenchman looked to have the more orthodox Hongo in trouble with a deep overhand grip, but Hongo managed to break it off time and again to advance to the final against Thomas. Vanbever meanwhile, came back to win the bronze against Primkulov (KAZ), while Jung Moon Kim of Korea fought through the repechage to win in convincing fashion over Tangriev (UZB) with a classic Seoi-nage 8 seconds into the final.
Related judoka and events
Related Judo Photos
Related Judo Videos
Related Judo News

Tornike Gvibliani (GEO)
31 years
| Result | City | Date |
| --- | --- | --- |
| 1 | Düsseldorf | 2020 |
| 2 | Osaka | 2019 |
| 1 | Tokyo | 2019 |
| 1 | Tokyo | 2019 |
| 1 | Hohhot | 2019 |
| Result | City | Date |
| --- | --- | --- |
| 1 | Düsseldorf | 2020 |
| 1 | Osaka | 2019 |
| 1 | Tokyo | 2019 |
| 3 | Tokyo | 2019 |
| 2 | Fukuoka | 2019 |