The latest Judo News offered by JudoInside.com
Russians show their candidacy for Olympic Games in Madrid
IJF Media Team / International Judo Federation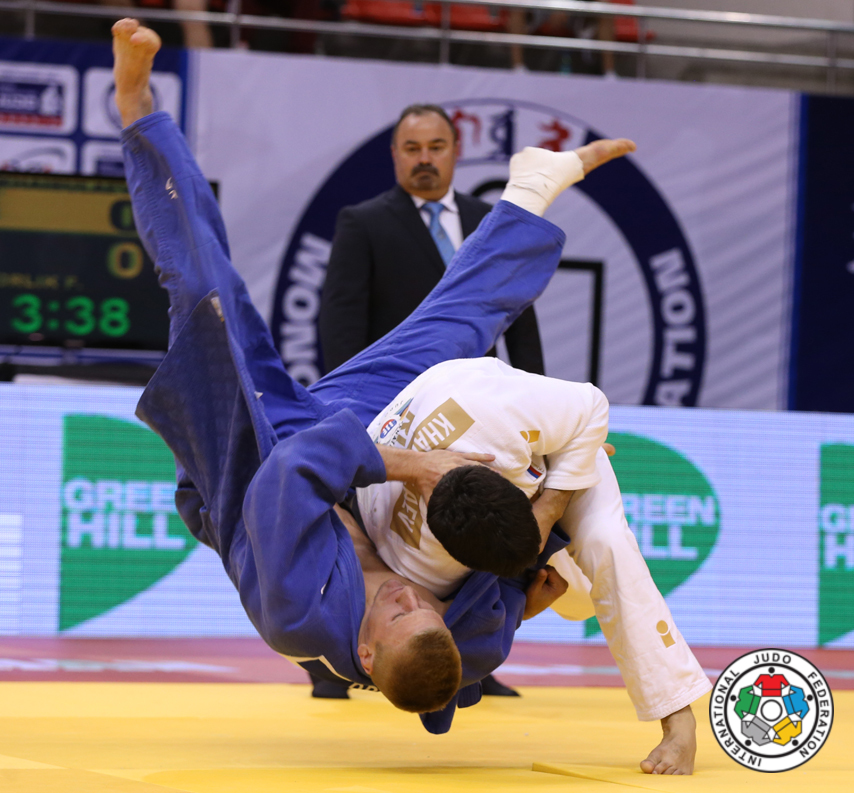 Portugal won a great gold medal as Anri Egutidze defeated Matthias Casse of Belgium in the final. Casse started the draw but injured himself. Due to a hand injury he had to withdraw halfway the match and Egutidze won the gold. It wasn't the excpected final as both youngsters did a great job by defeating world top athletes.
Egutidze gave Ivan Nifontov no chance and defeated the Russian potential Olympian. Nifontov won bronze in 2012, but isn't ready yet for Rio and will likely not be the ideal candidate this edition in Rio. Even on his birthday he couldn't give himself a nice present as he also lost the bronze bout against against Jonathan Allardon of France. Casse was also a surprise as he defeated Allardon in the quarter final and World number four Ivaylo Ivanov of Bulgaria in the semi final. It's a good motivation for his future and he seems to be the successor of Joachim Bottieau who will go to Rio for Belgium.
Egutidze said: "When I woke up this morning I just felt that I want to win today. The fight against Ivan Nifontov was strong from the start however as the contest proceeded I improved. I am still last year junior but I hope if I continue to work like today, I can win more and more. I want more medals and more wins and to go to the Olympic Games."
David Tekic won the gold for Germany U90kg. he defeated Anthony Laignes of France with a good uchi-mata for a direct ippon but he was already leading the match. Tekic booked his first World Cup medal and victory in Madrid. Tekic overcame Max Stewart in the semi final. The Briton fought Antoine Lamour for bronze but was overtaken in the golden score. Gary Hall, also from Great Britain did capture bronze against Thomas Briceno (CHI). Tekic: "I came here to win today. I had several injuries in the past but the doctor kept on reassuring me that I will be back soon. It is extremely special to fight here in Spain because I am also part the Spanish first league with Team Valencia and having some of those team mates as well as friends here cheering for me was incredible."
Of the most interesting victories was the gold for Tagir Khaibulaev of Russia. The Olympic Champion seems to be the best candidate for the Olympic team. Khaibulaev once again showed his awesome technique and ducked under Clement Delvert after 15 seconds in the match for almost an ippon but a wazari kept the match going. With a fantastic takeover Khaibulaev showed he is the man getting in shape. The Russian know and feel exactly when to get in shape, a good Khaibulaev is world class and always an Olympic candidate, although he didn't show his real shape often over the last four years, but when he did, it was finger licking. Just to mention that Khaibulaev also won gold in Madrid as preparation on the 2012 Olympics. Nothing is impossible.
Nell Ariano Rebouka (FRA) and Jalil Shukurov (AZE) won bronze U100kg.
World bronze medallist of 2014 Renat Saidov of Russia took the gold, so nothing unexpected in this category. The tall Saidov defeated likely the smallest in the field, French Jean-Sebastian Bonvoison. The biggest gap in height of the tournament for sure. Saidov didn't waste time and scored immediately but Bonvoisin was not yet impressed and fought bravely with good chances for a score. Saidov took over the Frenchman 20 seconds for the end and outbalanced him for a second yuko,end of story. Three golden sangria for the Russian on Sunday.
Spanish Angel Parra won bronze as Ukrainian Andrii Kolesnyk couldn't fight. 30-year old French Cedric Medeuf took bronze against this year's European Cup winner in Belgrade Vito Dragic by ippon in 45 seconds.
In the women's division the Netherlands showed its best with two gold medals. Gold for Sanne van Dijke U70kg. The Dutch defeated Italian Carola Paisoni. Van Dijke led after a minute by a wazari but Paisoni got a penalty for a leg grab two seconds for the end. Van Dijke overcame Gabriella Willems in the semi. The Belgian junior champion is getting better and booked her first senior World Cup medal against Sara Rodriguez. Jemima Yeats-Brown won bronze for Great Britain in her match against Jenny Werner (GER).
The category U78kg was won by Karen Stevenson. The Dutch was the most experienced and won her eighth World Cup medal. In the previous edition in Madrid she took bronze, so the progress is still clear. Last year she won the European Open in Lisbon. In the final it was clear Holland was winning as European Junior Champion Larissa Groenwold was Stevenson's opponent. Stevenson made the difference with good groundwork and got Groenwold in a hold down for 20 seconds. Vanessa Dureau of France was the winner of a long lasting match with Brigita Matic, but took the bronze with glance as she seemed to have scored a yuko earlier in the golden score. Anna Maria Wagner of Germany was the clear winner against Barbi Bandel, both German. Wagner is ready for this kind of level, or higher. Winner Stevenson reacted to the EJU reporter: "I was top seeded so I wanted to win it. I felt good today, even though at the beginning of the day started a bit rough but by the final I felt good and the final went easier than I expected."
Ksenia Chibisova was the favourite in advance. The Russian won the category +78kg against Kristin Buessow of Germany due to a hansoku for a fourth penalty. Jodie Myers won bronze in her last bout against Anne M'Bairo of France but it was a doubtful decision to give M' Bairo a penalty for a bearhug in the last second when she actually scored waza-ari according the referee. French Junior champion Julia Tolofua won bronze against Yelyzaveta Kalanina (UKR).
Russia finished with five gold medals, Germany second with three gold, France and the Netherlands claimed two gold medals in Madrid.
Related judoka and events
Related Judo Photos
Related Judo Videos
Related Judo News

Caithlyn Slangen (BEL)
17 years
| Result | City | Date |
| --- | --- | --- |
| 1 | Düsseldorf | 2020 |
| 2 | Osaka | 2019 |
| 1 | Tokyo | 2019 |
| 1 | Tokyo | 2019 |
| 1 | Hohhot | 2019 |
| Result | City | Date |
| --- | --- | --- |
| 1 | Düsseldorf | 2020 |
| 1 | Osaka | 2019 |
| 1 | Tokyo | 2019 |
| 3 | Tokyo | 2019 |
| 2 | Fukuoka | 2019 |