The latest Judo News offered by JudoInside.com
Who will be the choice for Russia U66kg Khan-Magomedov or Pulyaev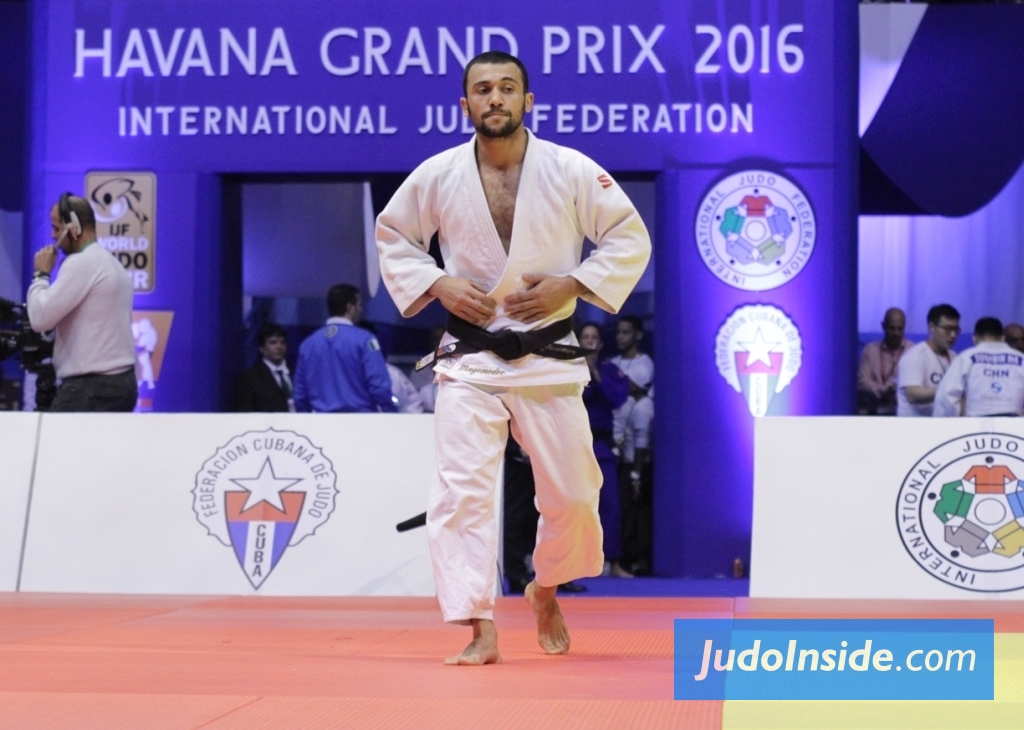 They know eachother well and respect eachother even more; Kamal Khan-Magomedov of Russia and Loic Pietri from France reached the final of the Grand Prix in Havana U66kg. Again it was Khan-Magomedov who blocked the ambitions of the Frenchman making the head2head 5-0 for the Russian potential Olympic medallist… or does Russia have an alternative?
With Mikhail Pulyaev Russia in principle have a save pinnacle for an Olympic medal. Both Pulyaev as Khan-Magomedov are acting in the World top. Pulyaev won two silver medals at the World Championships and Kamal Khan won bronze in 2014. Perhaps with today's winner Russia have even more chance for a gold medal, but Pulyaev seems a safe choice. In the next few weeks the choice for the Russian Olympic team is expected to be announced to give the athletes a quiet and focused preparation that special day.
Among the top 8 athletes of the category, five entered the final block of the category, Loïc Korval confirming his top seeded position with serious and consistent fights throughout the preliminary rounds. In the final he was opposed to the winner of the first edition of the European Games in Baku last year, Kamal Khan-Magomedov (RUS). The first minute and a half went quickly as both athletes were fighting for a good grip in a very dynamic way. After two minutes, Korval launched a first strong o-soto-gari, which was immediately counterattacked by the Russian but for no score. Multiplying the small mistakes, Khan-Magomedov was penalised twice giving a small advantage to the French. Suddenly, Khan-Magomedov could score a first yuko with a sutemi-waza technique. Korval was pushing to be able to score as well and he finally did it, but right after the end of the fight, the final gong saving Khan-Magomedov's gold medal.
When IJF Commentator Sheldon Rooks asked Khan-Magomedov about the long running battle with Korval, the Russian answered, "I have fought Korval three times previously and have been fortunate to win each time. He is a good fighter and I have a great deal of respect for his abilities. But I proved strong enough again and was happy to come away with the gold medal."
"It certainly appeared that Khan-Magomedov had timed his preparation well and he was candid about having been bust in recent weeks. "I'd been training hard in preparation for this competition and trained throughout the Christmas and New Year holidays, said Khan-Magomedov. The Russians attacking style is well know and that form was in evidence today. "I am not the kind of fighter to win on a shido. I like to win with some style when I can," said Khan-Magomedov. Unsurprisingly, Khan-Magomedov was animated and all smiles on the podium when he received his gold medal from IJF president Mr. Marius Vizer. "It was nice when the president congratulated me in Russian on my win. It felt personal and made me relaxed. I'll wait to hear from the head coach (Ezio Gamba) with regard to what he has in mind for me," said Khan-Magomedov.
For the first bronze medal, Charles Chibana (BRA), winner of the Tyumen Grand Slam in 2014, was opposed to Elio Verde from Italy. With two shidos on his side, Verde had to run after Chibana for the hope of a medal. He finally succeeded to step onto the podium when he scored a well deserved waza-ari, with a drop seoi-nage.
The second bronze medal contest saw Sebastian Seidl (GER) and Vazha Margvelashvili (GEO) stepping on the tatami for place on the podium. After five minutes, only penalties were distributed: three to Seidl and only one to Margvelashvili, which gave the victory to the Georgian.
Related judoka and events
Related Judo Photos
Related Judo Videos
Related Judo News

Daan Radier (NED)
17 years
| Result | City | Date |
| --- | --- | --- |
| 1 | Paris | 8 Feb |
| 1 | Qingdao | 2019 |
| 2 | Osaka | 2019 |
| 3 | Brasilia | 2019 |
| 1 | Tokyo | 2019 |
| Result | City | Date |
| --- | --- | --- |
| 5 | Paris | 8 Feb |
| 3 | Qingdao | 2019 |
| 1 | Osaka | 2019 |
| 2 | Chiba | 2019 |
| 5 | Budapest | 2019 |