The latest Judo News offered by JudoInside.com
Who are the most searched judoka on the planet?
IJF Media Team / International Judo Federation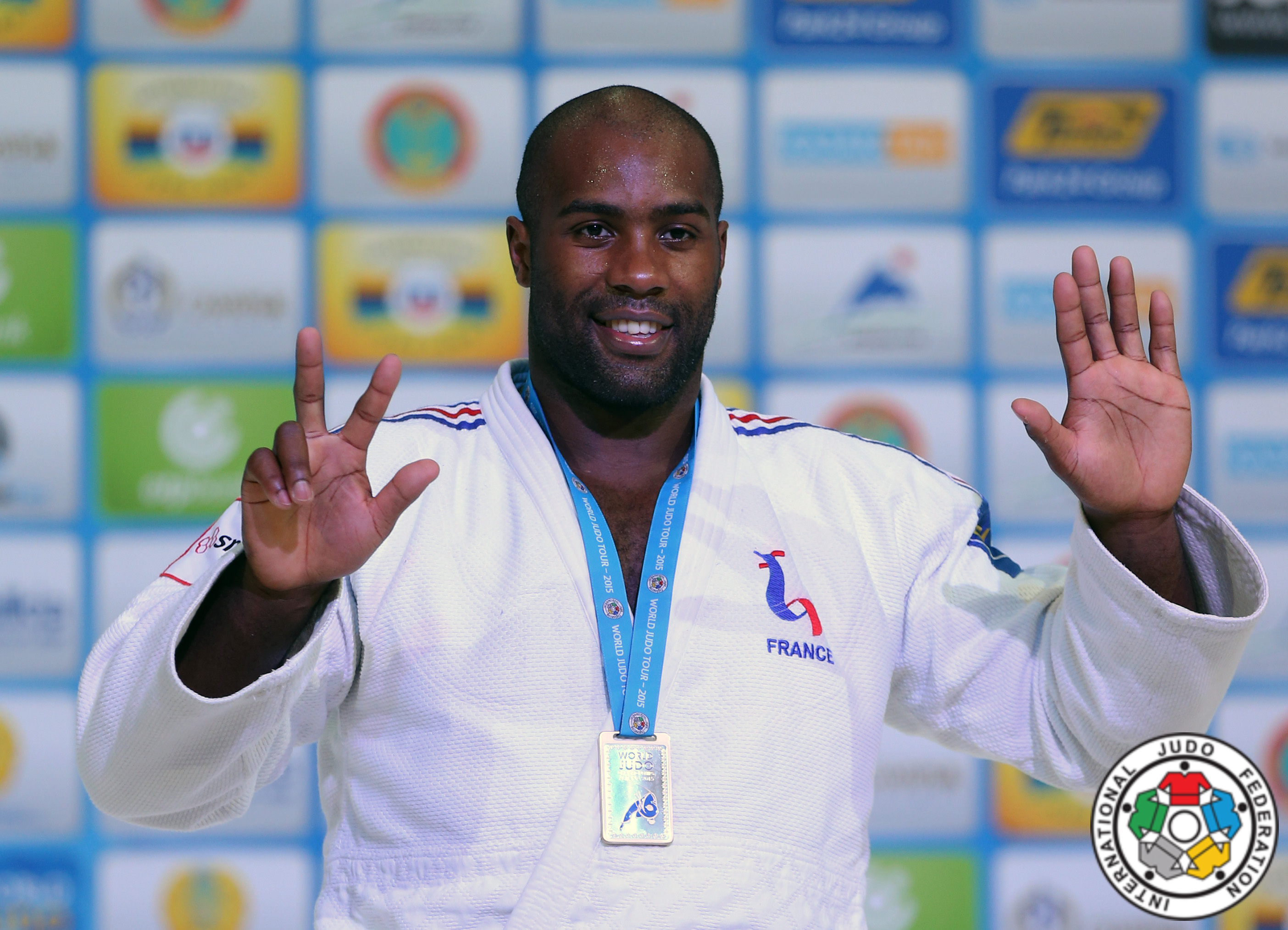 Who else than Teddy Riner was the most searched judoka of the year 2015 in JudoInside's unmatched database. Riner won his eighth World title this year and kept undefeated since 2010, an amazing performance. In the road to Rio he finetuned some techniques and grew to an even bigger icon in his country and for judo.
Ilias Iliadis remains tremendously popular. The is the second most searched judoka this year. Despite an injury Ilias remains our super hero in judo, an example for many judoka who's friendship is highly respected.
Ronda Rousey had a turbulent year. The former Olympic bronze medallist in Beijing and MMA super star who set women's MMA on the world map in sports is amazingly popular. Despite her loss against Holmes end of this year, she will get back in 2016 and with her movies, book and all side tracks she will be for sure among the top 10 most searched judoka in next year as well.
Avtandili Tchrikishvili is ranked fourth this year. Although he didn't win the world title this year, he is a boss. Who knows what 2016 will bring for Avto who faced more opposition than ever in his judo life. He's is a teamplayer and great icon for Georgian sports.
Majlinda Kelmendi is another icon for her country. The flag bearer for Kosova at the Olympic Games will try to regain her World number one position, but more importantly make her second Olympics to a huge success. Also Kelmendi faced more opposition this year. First of all of her body and secondly much more Asian opposition while Brazilian Erika Miranda as home player in Rio can't be whipped out. Kosovo is looking forward to the Games.
Beka Gviniashvili is JudoInside's number six searched judoka. With a European and World title Beka is ready for 2016. He can be seen as one of the outsiders for the Olympic title in an attractive weight category U90kg.
Georgii Zantaraia is another judoka who makes our sports so attractive. Many young judoka are looking for his fantastic videos of his moves, his clinics and looks. Although he still looking for the ultimate medal, his judo fame is known world wide. Georgii is a fantastic character in pictures, so have a look at his photo gallery to see the eye of the tiger.
It's typical for these characteristics in judo that male our sport:Ilias, Beka, Georgii and Krisztian Toth are typical eye catchers for the youth. They make our sport and they are great examples of respect for the opponent. Watch the photos of Krisztian how he appreciates a good fight. Time for his fans, time to cheer for his team mates. This is why Toth Krisztian is ranked in our top 10 of most searched judoka in 2015.
One of the style icons in judo is Shohei Ono. The Japanese World Champion is unmatched in his techniques, his style and victories. Although it's not a done deal if Ono will represent Japan at the Olympic Games, for us he is the most likely fighter and candidate for the Olympic gold medal.
Naohisa Takato is back in the top U60kg. His victory at the Grand Slam in Tokyo gave us a good feeling that Takato is the number one candidate in a category where everything is open. 2015 gave us new insights in this attractive weight category and Takato, World Champion Smetov, Ganbat, Kim and Lutfillaev give us the impression that the first day of the Olympic Games will be spectacular.
Enjoy JudoInside.com again in 2016 and search for your examples, your icons, their performances, the best videos, the most beautiful photos and the fastest judo news on the planet. JudoInside.com will provide the analytics to chew on in what will be a memorable year 2016.
Merry Christmas and Happy New Year!
Related judoka and events
Related Judo Photos
Related Judo Videos
Related Judo News

Hanna Rollwage (GER)
20 years
| Result | City | Date |
| --- | --- | --- |
| 2 | Düsseldorf | 21 Feb |
| 1 | Budapest | 2019 |
| 2 | Qingdao | 2019 |
| 1 | Osaka | 2019 |
| 1 | Odivelas | 2019 |
| Result | City | Date |
| --- | --- | --- |
| 1 | Düsseldorf | 21 Feb |
| 2 | Osaka | 2019 |
| 1 | Tokyo | 2019 |
| 1 | Tokyo | 2019 |
| 1 | Hohhot | 2019 |